Bolsa Chica

State Beach - California
Bolsa Chica State Beach is located south of the Huntington Beach community of Sunset Beach in Orange County. This beach is used for surf fishing, especially in the tidal inlet channel at the southern end. Fish include perch, croaker, cabezon, California corbina, and shovelnose guitarfish. At new and full moons during the summer, grunion emerge from the ocean to spawn on the beach. Under state law, these fish may be caught by hand with a fishing permit. The beach extends 3 miles (5 km) from Warner Avenue in Sunset Beach south to Seapoint Avenue, where the Huntington City Beach begins. The Bolsa Chica Ecological Reserve is located across the busy Pacific Coast Highway (PCH) from the beach and is a popular spot for birdwatching. Lifeguards from the California State Parks Lifeguard Service patrol the beach year round and lifeguard towers are staffed during the summer. Other recreational activities include surfing and camping. The Bolsa Chica bicycle path runs along the length of Bolsa Chica State Beach through Huntington City Beach.
maps
Vintage USGS - Santa Ana - 1947
Vintage 1947 USGS 1:250000 map of Santa Ana in California. Published by the U.S. Geological Survey (USGS).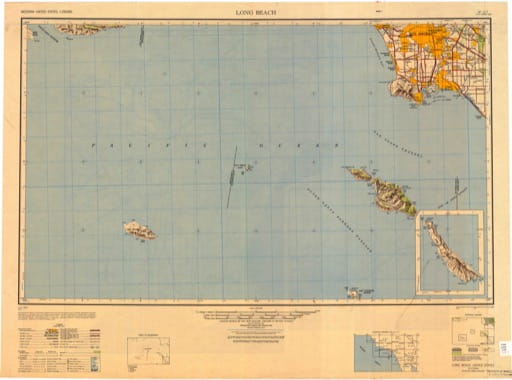 Vintage USGS - Long Beach - 1949
Vintage 1949 USGS 1:250000 map of Long Beach in California. Published by the U.S. Geological Survey (USGS).