by Alex Gugel ,
all rights reserved
Hearst San Simeon

State Historical Monument - California
Hearst Castle, San Simeon, is a National Historic Landmark and California Historical Landmark located on the Central Coast of California in the United States. The joint concept of William Randolph Hearst, the publishing tycoon, and his architect Julia Morgan, it was built between 1919 and 1947. His father George Hearst had purchased the original 40,000 acre estate in 1865 and Camp Hill, the site for the future Hearst Castle, was used for family camping holidays during Hearst's youth. Following his mother's death in 1919, Hearst inherited some $11,000,000 (equivalent to $158,961,612 in 2018) and estates including the land at San Simeon. Hearst used his fortune to further develop his media empire of newspapers, magazines and radio stations, the profits from which supported a lifetime of building and collecting. Within a few months of Phoebe Hearst's demise, Hearst had commissioned Morgan to build "something a little more comfortable up on the hill", the genesis of the present castle.
maps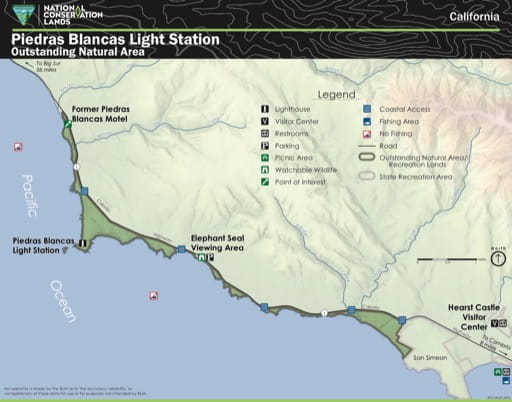 Piedras Blancas Light Station - Visitor Map
Visitor Map of Piedras Blancas Light Station Outstanding Natural Area (ONA) in California. Published by the Bureau of Land Management (BLM).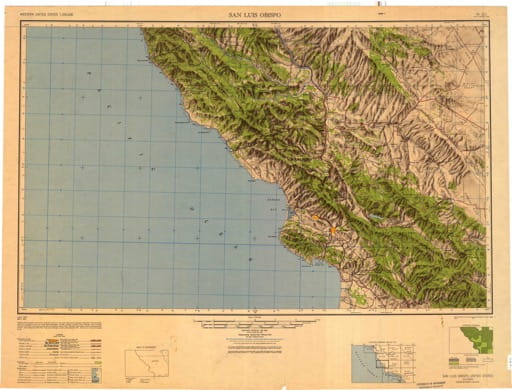 Vintage USGS - San Luis Obispo - 1947
Vintage 1947 USGS 1:250000 map of San Luis Obispo in California. Published by the U.S. Geological Survey (USGS).