Bill Baggs Cape

State Park - Florida
Bill Baggs Cape Florida State Recreation Area occupies approximately the southern third of the island of Key Biscayne, at coordinates 25°40′25″N 80°09′34″W. This park includes the Cape Florida Light, the oldest standing structure in Greater Miami. The park was named in honor of Bill Baggs, editor of The Miami News from 1957 until his death in 1969. He worked to protect the land from development and to preserve some of the key in its natural state. In 2004 a large historical marker was erected at the site to mark it as part of the National Underground Railroad Network to Freedom Trail, as hundreds of Black Seminoles, many fugitive slaves, escaped from here to freedom in the Bahamas, settling mostly on Andros Island. In the early 1820s, some 300 American slaves reached the Bahamas, aboard 27 sloops and many canoes.
maps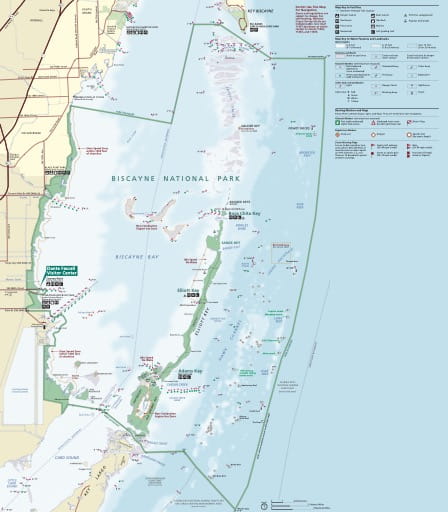 Biscayne - Visitor Map
Official visitor map of Biscayne National Park (NP) in Florida. Published by the National Park Service (NPS).
brochures
Bill Baggs Cape - Brochure
Brochure of Bill Baggs Cape State Park in Florida. Published by Florida State Parks.
Florida State Parks - Camping and Cabins Guide 2018. Published by Florida State Parks.
Camping and Cabins Guide brochure.