Kōkeʻe

State Park - Hawaiʻi
Kōkeʻe State Park is located in northwestern Kauaʻi in the Hawaiian Islands. It includes the Kōkeʻe Museum at the 15 mi (24 km) marker on State Road 550, which focuses on the weather, vegetation, and bird life; a lodge which serves food and sells gifts; cabins for rent; and hiking trails. The main attractions of Kōkeʻe State Park trails are the native vegetation, native forest birds, and the scenic cliffside views. Situated on a plateau between 3,200 and 4,200 ft (980 and 1,280 m), much of Kōkeʻe is a montane (infrequent frost) mesic forest (50 to 100 in or 1,300 to 2,500 mm annual rainfall with moist soil conditions) dominated by koa (Acacia koa) and ʻōhiʻa lehua (Metrosideros polymorpha) trees.
maps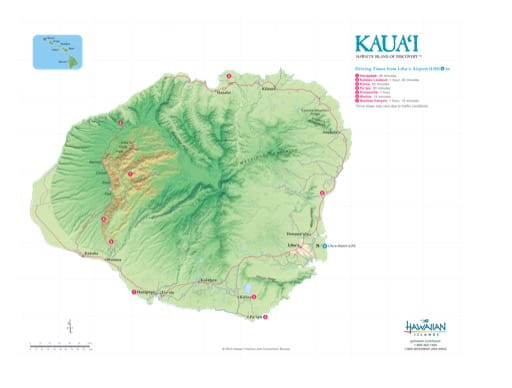 Kauaʻi - Driving Map
Driving Map of Kauaʻi (Kauai) in Hawaii. Published by the Hawaii Visitors & Convention Bureau.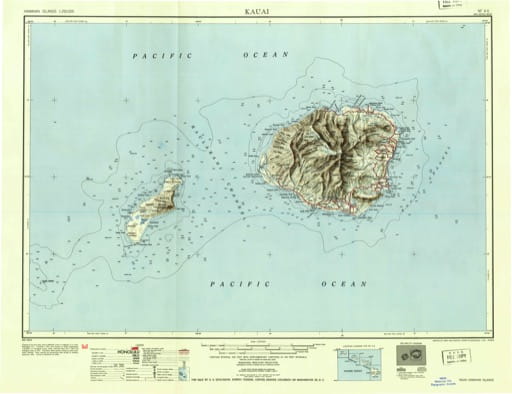 Kauaʻi - Vintage USGS Map - Kauai 1951
Vintage map of Hawaiian Islands - Kauai 1951. Published by the U.S. Geological Survey (USGS).
brochures
Hawaiʻi State Parks - Visitor's Guide
A Visitor's Guide to Hawaiʻi State Park Resources and Recreational Opportunities. Published by Hawaii State Parks.
Hawaiʻi State Parks - Hiking Safely
Brochure about Hiking Safely in Hawaiʻi. Published by Hawaii State Parks.