"Muskox and Geese"
by NPS Photo ,
public domain
Cape Krusenstern

National Monument - Alaska
Cape Krusenstern National Monument and the colocated Cape Krusenstern Archeological District is a U.S. National Monument and a National Historic Landmark centered on Cape Krusenstern in northwestern Alaska. Cape Krusenstern is primarily a coastal plain, containing large lagoons and rolling hills of limestone. The bluffs record thousands of years of change in the shorelines of the Chukchi Sea, as well as evidence of some 9,000 years of human habitation. The park's central features, 114 beach ridges at the eponymous cape, alternate between sandy and gravelly ridges and narrow ponds. Located entirely above the Arctic Circle in a region of permafrost, the monument's lands include typical thermokarst features.
maps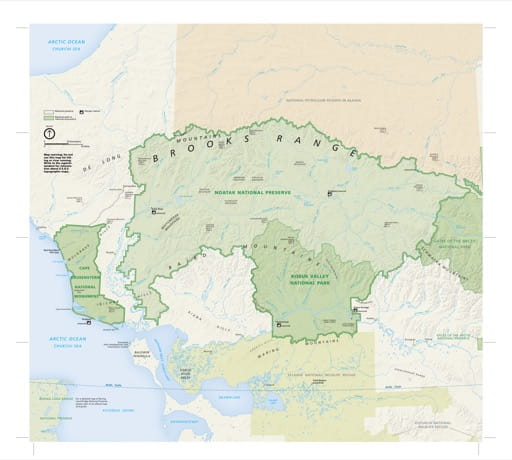 Cape Krusenstern - Visitor Map
Official visitor map of Cape Krusenstern National Monument (NM) in Alaska. Published by the National Park Service (NPS).
https://www.nps.gov/cakr/index.htm https://en.wikipedia.org/wiki/Cape_Krusenstern_National_Monument Cape Krusenstern National Monument and the colocated Cape Krusenstern Archeological District is a U.S. National Monument and a National Historic Landmark centered on Cape Krusenstern in northwestern Alaska. Cape Krusenstern is primarily a coastal plain, containing large lagoons and rolling hills of limestone. The bluffs record thousands of years of change in the shorelines of the Chukchi Sea, as well as evidence of some 9,000 years of human habitation. The park's central features, 114 beach ridges at the eponymous cape, alternate between sandy and gravelly ridges and narrow ponds. Located entirely above the Arctic Circle in a region of permafrost, the monument's lands include typical thermokarst features. North of the Arctic Circle, the monument forms 70 miles of shoreline on the Chukchi Sea. More than 114 beach ridges provide evidence of human use for 5,000 years. The Inupiat continue to use the area today. Vast wetlands provide habitat for shorebirds from as far away as South America. Hikers and boaters can see carpets of wildflowers among shrubs containing wisps of qiviut from muskoxen. Cape Krusenstern National Monument lies within a remote area of northwest Alaska and is bordered by the Arctic Ocean and Chukchi Sea. Visitors generally access the monument via the regional hub in Kotzebue. Commercial airlines provide daily service from Anchorage to Kotzebue. Chartered flights with licensed air taxi services, booked in advance, can take backcountry travelers to remote destinations within the monument. Northwest Arctic Heritage Center Large, half-dome shaped, blue and grey building with just over 11,000 square feet of space. The museum space is just over 1,800 square feet and contains animal displays, soundscapes, tactile exhibits and more. The Heritage Center also contains a bookstore, restroom, art gallery, and sitting area. The Northwest Arctic Heritage Center serves as the visitor centers for the Western Arctic National Parklands: Kobuk Valley National Park, Cape Krusenstern National Monument, and Noatak National Preserve. Cape Krusenstern National Monument lies within a remote area of northwest Alaska and is bordered by the Arctic Ocean and Chukchi Sea. Visitors generally access the monument via the regional hub in Kotzebue. Commercial airlines provide daily service from Fairbanks or Anchorage, to Kotzebue. Chartered flights with licensed air taxi services, booked in advance, can take backcountry travelers to remote destinations within the monument. Muskox and Geese muskox standing on the tundra Muskox and Greater White-fronted Geese on vegetated beach ridges in front of the Igichuk Hills. Winter Moon moon over snow covered hills January light and a bright moon at 2 pm over the Igichuk Hills in Cape Krusenstern National Monument. Beach Ridges on the Shore of Cape Krusenstern aerial view of beach ridges Beach ridges created by years of wave action during storms can be seen as parallel lines in the fall vegetation covering the old gravel. Fish on a Drying Rack fish hanging on rack Pike (left and right) and trout (middle) dry on a rack at a subsistence camp. The slash marks allow more air to circulate and dry the meat more quickly. Old House Uncovered archaeologist digging A University of Washington archeology crew conducts research on an old semi-subterranean house along the beach ridges of Cape Krusenstern. Old house timbers are slowly revealed about 4 feet down Home, home on your range? Read the abstract and get the link to a paper published in the Journal of Wildlife Management about the overlap across four Arctic caribou herds: Prichard, A. K., L. S. Parrett, E. A. Lenart, J. R. Caikoski, K. Joly, and B. T. Person. 2020. Interchange and overlap among four adjacent Arctic caribou herds. Journal of Wildlife Management 1-15. Caribou in brushy northern forest. Permafrost Resource Brief for the Arctic Network Permafrost underlies most of the Arctic Network and affects nearly everything in the arctic ecosystem. Thawing permafrost also changes the local hydrology and creates the second-greatest disturbance to boreal forests, after wildfires. Recent warm and wet conditions caused some thaw of ice masses and surface subsidence in Arctic parks that ultimately led to a record number of drained of shallow lakes. This brief provides an update on permafrost monitoring in the Arctic Network Polygonal shaped tundra due to underlying permafrost Arctic Cryosphere: snow, water, ice, and permafrost This article is a summary of findings from the Snow, Water, Ice, and Permafrost in the Arctic report by the Arctic Council Arctic Monitoring and Assessment Programme. A person dwarfed in the expansive snow-covered tundra of the Arctic. Bering Strait Archaeology Camp, 2019 The annual Bering Strait Archaeology Camp provides students with hands-on activities that build confidence and curiosity while allowing students to experience a direct, tangible connection to the past. The camp teaches students to combine archaeological methods like surveying house pit sites, analyzing artifacts, and interviewing elders to create a picture of the past. kids stand around a beach campfire Northwest Arctic Trade Fair Qatnut is the Northwest Arctic Trade Fair, a celebration of Arctic culture and traditions. Traditional dances site on the gym floor. Cape Krusenstern Beach Ridge Complex Survey In 2007, Cape Krusenstern National Monument began a project to survey and inventory the entire 10-mile Cape Krusenstern beach ridge complex in an effort to integrate the cultural resource and environmental data into a comprehensive management plan. The plan will help NPS address coastal erosion and local land use issues as well as cultural resources documentation, preservation, and protection. Archeologists record a previously excavated housepit. Seasonal Sea Ice and Arctic Migrations of the Beluga Whale Sea ice break-up in the spring and freeze-up in the fall govern the accessibility of Alaska's Arctic Ocean for several migratory marine species. Each year, beluga and bowhead whales navigate the Bering Strait and enter the southern Chukchi Sea, one of the most seasonally productive regions of the global oceans. Some belugas and most bowhead whales continue on their >1,500 mile migration north of Alaska to the Canadian Beaufort Sea. Alaska Park Science 17(1), 2018. Beluga whale pod migrating in the Arctic Sea. Subsistence The study of subsistence resources in parks has been a mix of long-term work and projects instigated by issues facing the Federal Subsistence Board. Winter hunting is an important subsistence activity in many Alaska communities and park areas. Alaska Native Place Names in Arctic Parks Indigenous place names are rich ethnographic and historical resources. Many of them refer to activities that regularly took place at the site; others tell of historical events that occurred there. These names have been replaced by English names on modern maps; this article discusses efforts to document these names into the future. a group of people near a canvas tent, alongside a large river Science in Wilderness Marine Reserves ANILCA establishes the largest scientific laboratory...ever! A spawning salmon struggles to get back into the water. A Tribute: Dave Spirtes, 1948-2004 A tribute to a lost colleague and friend, Dave Spirtes. Dave Spirtes holds an award presented to him by Ron Arnberger, Alaska Regional Director (retired). ANILCA and the Western Arctic Caribou Herd Cooperative Management Plan The Western Arctic Caribou Herd at 450,000 animals is only one of about 32 herds in Alaska but is by far the largest, comprising about half of the caribou in the state (and about 10% of the world total of 5 million animals). Lush green tundra cut by thousands of caribou tracks. 2016 Science Education Grant Recipients The Murie Science and Learning Center (MSLC) funds numerous outreach projects through the Science Education Grant program. These grants help MSLC partner parks pay for science education outreach projects. Funding for the Science Education grant program is provided by Alaska Geographic. Read about the 2016 Science Education Grant recipients and their outreach projects. a photographer takes a picture in the grass while the sun sets Understanding Arctic Sea Ice in a Period of Rapid Climatic Change Decreasing sea ice poses significant challenges to both wildlife and people of the Arctic. This article explores the impacts associated with decreasing sea ice and how we may adapt. woman in red parka kneeling by a small hole in ice Learning from the Past: Archaeological Results from Cape Krusenstern National Monument With such a large geographic extent to cover, archaeologists in Alaska are often covering new ground. Increasingly, however, archaeologists are returning to previously researched sites for new insights. person sitting in a tree-less field In Celebration of ANILCA Former President, Jimmy Carter, offers a sentimental introduction to the 25th Anniversary Edition of Alaska Park Science and the Alaska National Interest Lands Conservation Act (ANILCA). Black and white photo of six white men standing in front of an old National Park Service Building. Cleaning Up Alaska's Beaches Cleanup crews hit the beaches in 5 of Alaska's coastal national parks in 2015 to collect, assess and ultimately remove abandoned and washed up trash. The massive endeavor was part of a larger project aimed at understanding the sources of marine debris and keeping it out of the ocean and off of Alaska's beaches. NPS staff and volunteers with bags of trash collected off beach. A History of Science in Alaska's National Parks National park units in Alaska precede the establishment of the National Park Service in 1916. The first park unit, Sitka National Monument, was conceived in 1908, and by the mid-1920s four national monuments along with Alaska's first national park were part of the growing park system. Discover how the early 1900s and observations of a few helped to establish the National Park Service in Alaska. Black and white photo of Arno Cammerer sitting at his desk looking through papers. Old is Getting Older In the last 25 years, persistent archaeological survey and improved scientific techniques have resulted in new data which confirms that Alaska sites are actually much earlier than we once believed. NPS archaeologist works at Amakomanak site in Noatak National Preserve. Mining Legacy in National Parks of Alaska Mining is intrinsically tied to the history of Alaska as a territory and then state of the United States. Thousands of historic and active mining sites exist within national parks across Alaska - some with a rich cultural history and others with disturbed lands and hazardous conditions. gold dust in a pan Download Alaska Park Science: Volume 16, Issue 1 Download a print-friendly copy of Volume 16, Issue 1 of Alaska Park Science. a group of muskox running across a field Why the National Park Service Cares about Shipping in the Arctic An increase of up to 500% of ship traffic in the Arctic was recently forecasted over the next decade with the largest increase coming from "destination" shipping, such as tourism and resource extraction. The NPS is actively engaged in efforts to document and forecast these changes because of the potential to impact park resources and values in the Arctic. A large cruise ship nears harbor seals hauled out on the ice near Glacier Bay National Park A Partnership to Remove Marine Debris from Alaskan Coastal Parks Marine debris can affect marine mammals and birds through entanglement, strangulation, and digestive blockage. In summer 2015, we conducted an extensive multi-partner project to remove over 11 tons of marine debris from remote beaches in five Alaska parks. park rangers putting trash into white plastic bags on a rocky beach The Vulnerabilities of Cultural and Paleontological Resources to Coastal Climate Change Processes in Northwest Alaska Bering Land Bridge National Preserve and Cape Krusenstern National Monument exhibit a wide variety of coastal landforms including barrier lagoons, tundra bluffs, accreting spits, and beach ridge complexes; all home to vulnerable fauna, flora, and avian communities; internationally significant archaeological, historic, and ethnographic resources; and unique paleoecological and fossil records. Coastal erosion and a changing climate pose a threat to these areas. people near two yellow tents in a tree-less expanse of tundra Promoting Spill Preparedness in Western Arctic Parks with the Community Integrated Coastal Response Project With continued sea ice extent reductions, the Bering Strait is poised to become a crucial marine transport waterway for the world. To help safeguard Arctic parks, the NPS conducted a study of resource risk and incident response preparation that includes shipping traffic modeling, community response training, and geographic response strategies. man in cold-weather gear standing in the back of a small boat loaded with scientific equipment Lost Arctic Lakes Read the abstract and get the link to an article published in a peer-reviewed journal: Swanson, D. K. 2019. Thermokarst and precipitation drive changes in the area of lakes and ponds in the national parks of northwestern Alaska, 1984-2018. Arctic, Antarctic, and Alpine Research 51(1): 265-279. A large lake nearly dry. Studying Arctic Marine Mammals in the Shipping Age Pod of narwhals, one of the few mammals endemic to the Arctic Ocean. Photo used by permission from Kristin Laidre A pod of narwhals surfaces in the Arctic. Coastal Dynamics in Bering Land Bridge National Preserve and Cape Krusenstern National Monument Arctic coastlines are changing as a result of warming temperatures and decreasing sea ice extent and duration. An understanding of these changes can contribute to the effective management of coastal habitats and ecosystems, oil-spill response, marine debris collection, and the preservation of cultural artifacts. Alaska Park Science 18(1):2019. A researcher stands on the Arctic coastal tundra. Fire Ecology Annual Report 2018 Fire Season Despite the relatively quiet fire season in Alaska in 2018, the National Park Service saw 24 wildfires spanning over 36,000 acres burning within and adjacent to park boundaries. Six of those fires were in Cape Krusenstern National Monument. An anvil-shaped smoke plume rises above the tree line on the Yukon River. Aurora Borealis: A Brief Overview A brief overview of how Northern Lights occur. two ribbons of greenish light in a dark blue sky, over a very dark forest Practice Safe Bear Spray Use Proper behavior in bear country and understanding bear behavior can help to avoid dangerous situations for people and bears. Bear spray should be used as a last line of defense when dealing with bears- not immediately upon seeing one. This introduction will help cover bear behaviors as well as safe use of bear pepper spray. A black bear stands on a wooden bench. Alaska's Northern Parks: The Wonder of the Arctic The Arctic is a region characterized by extremes and adaptation. It is rich in natural and cultural history. The articles in this edition of Alaska Park Science highlight the many facets of life in the Arctic. stone outcrop in the Arctic tundra Synthesis of Coastal Issues and Projects in the Western Arctic National Parklands The Arctic coastal parks are currently facing a new set of threats brought about primarily by climate change and associated economic trends. Remote parks, people, and cultures are finding themselves increasingly in the midst of complex and novel situations. seal along the coast National Park Service Participation in the Arctic Council The Arctic Council and its working groups provide a forum through which NPS scientists and managers can share information and learn from a wide array of colleagues and Arctic residents that are coping with similar challenges. Caribou skulls in an Arctic valley Small Mammals as Indicators of Climate, Biodiversity, and Ecosystem Change This is a time of rapid environmental changes in Alaska. Species that have evolved within tundra habitats over multiple glacial cycles are not only best adapted to high-latitude and high-elevation environments, but may also respond more slowly to change. Studies of small mammal communities could provide valuable insights to larger ecosystem changes. two marmots perched atop a large boulder Muskox: An Iconic Arctic Species, Then and Now In response to changes in hunting regulations and low harvest rates, the most recent data show that between the 2012 and 2015 the muskoxen population across the Seward Peninsula appeared to stabilize. The number of animals within Bering Land Bridge National Preserve and adjacent areas, however, declined during the same time period. a person in a white parka looking at three muskoxen across a snowy landscape Collaborative Conservation of the Rare Alaskan Yellow-billed Loon Through collaborative research with our partners, we are addressing the data gaps outlined in the Status Assessment and Conservation Plan for the Yellow-billed Loon to inform prudent conservation efforts and science-based management of this rare and majestic species across Alaska. a bird spreading its wings while sitting in water 2013 Microgrant Recipients The Murie Science and Learning Center (MSLC) funds numerous outreach projects through the Microgrant program. These grants help MSLC partner parks pay for science education outreach projects. Funding for the Microgrant program is provided by Alaska Geographic. Read about the 2013 Microgrant recipients and their outreach projects. A Ranger stands with two junior rangers 2014 Microgrant Recipients The Murie Science and Learning Center (MSLC) funds numerous outreach projects through the Microgrant program. These grants help MSLC partner parks pay for science education outreach projects. Funding for the Microgrant program is provided by Alaska Geographic. Read about the 2014 Microgrant recipients and their outreach projects. Two students kneel in grassy field taking notes while looking at pink flagged marked locations NPS Geodiversity Atlas—Cape Krusenstern National Monument, Alaska Each park-specific page in the NPS Geodiversity Atlas provides basic information on the significant geologic features and processes occurring in the park. [Site Under Development] beach ridges and wetlands Arctic Small Tool Tradition Read abstracts and link directly to a collection of peer-reviewed published articles on the Arctic Small Tool tradition and archaeology in Alaska. A collection of ancient tools. 2019 Science Education Grants The Murie Science and Learning Center (MSLC) funds numerous outreach projects through the Science Education Grant program. These grants help MSLC partner parks pay for science education outreach projects. Funding for the Science Education grant program is provided by Alaska Geographic. Read about the 2019 Science Education Grant recipients and their outreach projects. a park ranger and kids standing in shallow lake water Connecting Youth to Coastal Resources in Western Arctic Parks We added youth-related initiatives to three science projects in western Arctic parks: Yellow-billed Loon monitoring, shorebird migration, and marine debris clean-up. In doing so, we provided opportunities for Alaska youth to participate in NPS science, promoted cultural and social exchanges between rural and urban youth who shared their story through digital media. a woman holding a disposable plastic bottle Feathered Ambassadors of Arctic Coastal Parks Coastal areas in the Bering and Chukchi Seas are increasingly vulnerable to heightened industrial activity and a rapidly changing climate. Little is known regarding abundance, species composition, or distribution of shorebirds during fall migration in this region. Without such information, it will be impossible to prioritize effective oil spill response to the most critical areas if such a disaster does occur or to manage restoration activities after an incident. brownish bird in flight Understanding the Ecology of Arctic Coastal Lagoons through Fisheries Research and Monitoring Shallow, dynamic coastal lagoons represent a critically important ecosystem in the Arctic region, supporting avian, fish, and invertebrate populations, in addition to being used by both terrestrial and marine mammals. The lagoons are extremely vulnerable to both climate change and human impacts from increased activities in and around the region. a smiling woman holding a large fish in two hands Cape Krusenstern National Monument Wilderness Character Narrative Cape Krusenstern contains almost 597,000 acres of eligible wilderness, managed in accordance with NPS policy as wilderness in order to preserve its wilderness character. While it is just west of the larger, contiguous wilderness areas of the Noatak, Kobuk, Gates of the Arctic, and Selawik, it is an island unto itself with a unique set of threats and management challenges. A small group of muskoxen on the tundra. 2018 Science Education Grants The Murie Science and Learning Center (MSLC) funds numerous outreach projects through the Science Education Grant program. These grants help MSLC partner parks pay for science education outreach projects. Funding for the Science Education grant program is provided by Alaska Geographic. Read about the 2018 Science Education Grant recipients and their outreach projects. an instructor and a camper work on a carving Coastal Settlement Patterns New research demonstrates that the prehistorical population of the coastal areas of Cape Krusenstern National Monument was higher than previously thought, even through periods of significant environmental variability. aerial view of Cape Krusenstern The Fate of Permafrost At present, permafrost is continuous in Arctic parks and discontinuous in Denali and Wrangell St.-Elias national parks and preserves. We expect the distribution of permafrost will still be continuous in Arctic parks by the 2050s; however, it is very likely that the distribution of permafrost in Denali and Wrangell-St. Elias will become sporadic by then. a person standing next to an eroded hillside 2017 Science Education Grants The Murie Science and Learning Center (MSLC) funds numerous outreach projects through the Science Education Grant program. These grants help MSLC partner parks pay for science education outreach projects. Funding for the Science Education grant program is provided by Alaska Geographic. Read about the 2017 Science Education Grant recipients and their outreach projects. two girls sit in a kayak out on the water Caribou Migration Linked to Climate Cycles and Insect Pests Read the abstract and get the link to an article published in Ecosphere on climate and insect drivers for caribou migration: : Gurarie, E., M. Hebblewhite, K. Joly, A. P. Kelly, J. Adamczewski, S. C. Davidson, T. Davison, A. Gunn, M. J. Suitor, W. F. Fagan, and N. Boelman. 2019. Tactical departures and strategic arrivals: Divergent effects of climate and weather on caribou spring migrations. Ecosphere 10(12):e02971. 10.1002/ecs2.2971 Caribou migrate across snow-covered tundra. Caribou Resource Brief for the Arctic Network The Western Arctic Caribou Herd is one of the most critical subsistence resources in northwest Alaska. Monitoring the herd helps develop subsistence and sport hunting regulations that conserve the resource, protect critical habitat, and reduce conflicts among user groups. Since 2009, over 300 GPS collars have been deployed on caribou that have collected over 800,000 caribou locations. Caribou swim across the Kobuk River at Onion Portage in Kobuk Valley National Park Fall 2019 Weather Summary for Arctic Parks What was the weather like in Arctic Parks in 2019? Check out this weather summary for Fall 2019 for Bering Land Bridge NP, Gates of the Arctic NPP, and Western Arctic Parklands. Climate scientists repair climate station. Mountains in the backdrop. Improving Muskox Survey Methods Read the abstract and link to an article that describes improved survey methods for muskox populations on the Seward Peninsula of Alaska. Schmidt, J. H. and H. L. Robison. 2019. Using distance sampling-based integrated population models to identify key demographic parameters. The Journal of WIldlife Management DOI: 10.1002/jwmg.21805 A group of muskox on the tundra. Harmful Algal Toxins in Alaska's Seabirds and Marine Mammals Seabirds and marine mammals along Alaska's coastline have been experiencing unusually large and consistent die-offs for the past several years, in conjunction with warming ocean temperatures. Researchers want to know if harmful algal blooms, typically associated with warmer climates, are playing a role in these deaths. A researcher examines a dead glaucus gull on a beach. Studying Arctic Shorebirds takes Collective Effort Read the abstract and get the link to an article published in the Condor on Arctic shorebird population trends: Weiser, E. L., R. B. Lanctot, S. C. Brown, H. R. Gates, ... D. Payer, et al. 2020. Annual adult survival drives trends in Arctic-breeding shorebirds, but knowledge gaps in other vital rates remain. The Condor: Ornithological Applications 122: 1-14. DOI: 10.1093/condor/duaa026 Shorebird chicks in a nest. Predicting Seasonal Distributions and Migratory Routes of Western Arctic Herd Caribou Read the abstract and get the link for an article on caribou migration patterns published in Movement Ecology: Baltensperger, A. P., and K. Joly. 2019. Using seasonal landscape models to predict space use and migratory patterns of an arctic ungulate. Movement Ecology 7 (18). DOI: 10.1186/s40462-019-0162-8. The western arctic caribou herd along the Kobuk River. Permafrost Landforms as Indicators of Climate Change in Parks Across the Arctic Permafrost, ground so cold that it stays frozen for multiple years, develops certain landforms when it thaws, and thereby provides a way for scientists to recognize and monitor our changing climate. treeless hillside partially collapsed into a river at its base Research Fellowship Recipients: 2011 Learn about 2011 research fellowship recipients. Tracking Mineral and Energy Development Projects near Alaska Parks through Web Mapping Visitors flock to places like Glacier Bay to experience a connection with the landscape. Early visitors to the state also discovered gold and other resources, development of these which helped shape modern Alaska. A careful balance between conservation and resource development continues today. Visual mapping allows land managers, visitors, and the public to more easily understand the type, scale, and scope of resource development adjacent to parks. aerial view of a dirt road and equpiment in a tree-less landscape The Birds of Bob Uhl's Journals Bob Uhl and his wife Carrie lived in remote sites in Cape Krusenstern National Monument for more than 50 years. From 1990 to 2004 Bob kept journals of daily observations. Birds appear in almost every day's entry. As a subsistence user, Bob related to the birds as a source of food. As a fellow dweller of the natural world, he also saw them as friends. Above all, however, Bob was a naturalist who knew changes in certain populations affected other parts of the ecosystem. elderly man and woman Observations of Changing Conditions in Northwest Alaska and Impacts on Subsistence Fishing Practices The global warming trend of the past century is amplified at high latitudes. Global climate change and the regional intensity of change in the Arctic have significant implications for the remote, indigenous communities of the North, who are closely tied to their surrounding environment. Residents of the Arctic recognize that regional climate has changed within living memory. five people in a small boat Camp Willow Teaches Local Kotzebue Kids What it Means to be a Park Ranger During the summer of 2015, Western Arctic National Parklands held its seventh annual Camp Willow summer camp program. The program which is partially funded through the Murie Science and Learning Center's science education microgrant brings local 10 - 15 year olds from the local community of Kotzebue to discover what it is like to be a park ranger. campers sit on a beach looking out at the water Late Pleistocene Paleontology and Native Heritage in Northwest Alaska ossil remains are bountiful in northwest Alaska, with the Baldwin Peninsula, Kotzebue Sound, and Seward Peninsula being particularly fossil-rich areas. Recorded paleontological discoveries were made in the immediate area as early as 1816. However, the region has lacked the level of attention and scientific study of other northern areas such as the Klondike and the Yukon, and is therefore lesser known. woman standing to a waist-high leg bone What Future for the Wildness of Wilderness in the Anthropocene? Visionary as it was, the Wilderness Act did not anticipate today's human-driven, global-scale changes. The idea of preserving wild lands challenges us with the irony that such places, untouched by humans, will only continue through our will to keep them that way. A resolute human purpose is needed to maintain the decision to have areas that are free of human purpose. aerial view of wolves moving single-file through a snowy forest Capturing History in the Beach Ridges of Cape Krusenstern Archeological resources at Cape Krusenstern tell about climatic impacts on the earliest Americans and the ancestors of Eskimo societies still living in the region. Learn about the ways that modern climate change affects the beach ridges, endangering the human stories they hold. Archeologist scoops soil from an excavated unit. Research Fellowship Recipients | 2014 Learn about 2014 Research Fellowship recipients. woman kneeling in water Research Fellowship Recipients 2013 Read about 2013 fellowship recipients and the studies they chose to conduct throughout Interior and Arctic parks in Alaska. a woman sitting in a muddy field What we learned from 57 years of Dunlin banding Read the abstract and get the link to a paper on shorebird conservation, specifically Dunlin migration based on 57 years of data. Lagassé, et al. 2020. Dunlin subspecies exhibit regional segregation and high site fidelity along the East Asian–Australasian Flyway. The Condor: Ornithological Applications 122: 1-15. A Dunlin (shorebird). Alaska Aviation Safety In Alaska, small planes are often the best way to get around but flying has its risks. Aviation safety requires more than just a pilot's skill–it takes all of us. Learn more about aviation to increase the safety of your next park flight. An NPS pilot in a plane cockpit flying over a turquoise lake Lichens of the Arctic Because certain lichen species are both abundant and sensitive to changes in the environment, they can serve as useful indicators of ecosystem health. When exposed to even low levels of certain pollutants, particularly sensitive species will decline or die, making lichen community composition a good indicator. closeup of green colored lichen Cruise Ship Standards of Care As part of the Arctic Waterways Safety Committee, the National Park Service is helping to develop best practices for the growing cruise ship industry in Arctic Alaska. The resource brief reviews what is at stake and efforts to protect both the wildlife and communities of of Alaska's Arctic region. The sun sets over the Arctic Ocean, casting an orange glow in the sky. The 19th Amendment, Elizabeth Peratrovich, and the Ongoing Fight for Equal Rights In Alaska, women's suffrage passed in 1913—seven years prior to the 19th Amendment—and antidiscrimination legislation passed nearly 20 years prior to the major national civil rights bills of the 1960s. In the 1940s, Elizabeth Peratrovich—a Tlingit woman who was Grand President of the Alaska Native Sisterhood—led the charge to end discrimination against Alaska Natives. gold coin of a raven, a woman's face, and words elizabeth peratrovich anti-discrimination law Series: Alaska Park Science - Volume 16 Issue: Science in Alaska's Arctic Parks The National Park Service manages five parks that fall partially or entirely within the Arctic tundra biome. These five parks encompass 19.3 million acres of land and constitute approximately 25% of the land area managed by the National Park Service nationwide. These are undeveloped places, with free-flowing rivers and wilderness at a massive scale. a group of muskox running across a field Series: Alaska Park Science - Volume 12 Issue 2: Climate Change in Alaska's National Parks In this issue: * Status and Trends of Alaska National Park Glaciers * Tracking Glacial Landscapes: High School Science Gets Real * Climate Change Scenario Planning Lessons from Alaska a hillside overlooking a wide valley filled by a glacier, surrounded by steep mountains Series: Alaska Park Science - Volume 13 Issue 2: Mineral and Energy Development There's no denying that energy and mineral extraction have been and will continue to be important across the North for a long time. Mining and energy-related industries provide direct and indirect employment for thousands of people, taxes and other revenues. Our need is for science, engineering, and scholarly research; to develop safe, effective, and affordable technologies; to protect, preserve, and restore the natural and human environment; and to record and communicate our history. aerial view of buildings and a pier sticking out into the ocean Series: Alaska Park Science - Volume 13 Issue 1: Wilderness in Alaska This issue includes: * Economics of Wilderness * Using Ethics Arguments to Preserve Naturalness * Busing Through the Wilderness: "Near-Wilderness" Experiences in Denali ... and more! mountains reflecting into a calm lake, the words 'alaska park science' Series: Alaska Park Science - Volume 15 Issue 1: Coastal Research Science in Alaska's National Parks This issue focuses on studies occurring in coastal areas throughout national parks in Alaska. Articles include a variety of studies on arctic coastal lagoons, background on a large research project studying coastal brown bears, and more. a brown bear investigating a clam on a beach Series: The Legacy of ANILCA The Alaska National Interest Lands Conservation Act impacts the National Park Service in many ways. ANILCA stipulates the designation of wilderness, subsistence management, transportation in and across parklands, use of cabins, mining, archaeological sites, scientific research studies and more. Two men drag a harvest seal from icy blue waters across frozen ice. Series: Copper River Basin Symposium - Wrangell-St Elias National Park and Preserve February 2020: With a theme of Tradition, Science, and Stewardship, the two-day symposium included keynote speakers, 26 short presentations, and a poster session. A panel discussion delved into opportunities in working with indigenous communities. Ahtna elders provided wisdom in daily welcomes, and there was a presentation by Copper River Stewardship Youth. Topics ranged widely from fisheries to archaeology to geology. As well as sharing knowledge, participants shared meals, stories, and ideas. Copper River Basin Symposium logo by Lindsay and Elvie Series: National Park Service Geodiversity Atlas The servicewide Geodiversity Atlas provides information on <a href="https://www.nps.gov/subjects/geology/geoheritage-conservation.htm">geoheritage</a> and <a href="https://www.nps.gov/subjects/geology/geodiversity.htm">geodiversity</a> resources and values all across the National Park System to support science-based management and education. The <a href="https://www.nps.gov/orgs/1088/index.htm">NPS Geologic Resources Division</a> and many parks work with National and International <a href="https://www.nps.gov/subjects/geology/park-geology.htm">geoconservation</a> communities to ensure that NPS abiotic resources are managed using the highest standards and best practices available. park scene mountains Series: Alaska Park Science, Volume 18, Issue 1, Understanding and Preparing for Alaska's Geohazards Alaska is the most geologically active part of North America. Much of the awe-inspiring landscapes of Alaska's parks are created by geologic processes. But sometimes, these processes can be hazardous. This issue explores the state of the science to understand geohazards in Alaska national parks. Alaska Park Science 18(1): 2019. A man jumps down a dune of volcanic ash. Series: Alaska Park Science - Volume 14 Issue 2: Birds of Alaska's National Parks This issue includes articles exploring birds throughout national parks in Alaska. Particular emphasis is on the changing ways to study birds, and the increasing importance not just on the summer homes of birds in Alaska, but the routes between their wintering and summer breeding grounds. a great horned own and two large owlets in a nest Series: Alaska Park Science - Volume 17, Issue 1. Migration: On the Move in Alaska Alaska is home to many amazing animal migrations. In this issue, you will read about caribou, salmon, Golden Eagles, Swainson's Thrushes, beluga whales, and more. Human migrations have also occurred here, from ancient Beringia to the Klondike Gold Rush. You can even read about now-extinct species from the Cretaceous and Pleistocene eras. Enjoy this issue of Alaska Park Science and read about migration. Alaska Park Science 17(1), 2018. Caribou swim across a river. Fire Extent and Frequency Resource Brief for the Arctic Network Fire affects all 5 parks within the Arctic Network. The first fires in the network were officially recorded in 1956, although the history of fire in these parks, based on charcoal records dates back to at least 6,000 years ago. Since 1956, 574 fires have occurred in Arctic Network parks, burning nearly 1.1 million acres, an area almost twice the size of Cape Krusenstern National Monument. The vast majority of these fires (97%) were started by lightning. Fire ecologist measures depth of soil consumption in tussocks 1 year after a recent fire in Noatak. How the Arctic coast and culture intertwined Read the abstract and access a peer-reviewed article on how human settlement is intertwined with ecological history of the Arctic coast: Anderson, S., J. Jordan, and A. Freeburg. 2020. Human settlement and Mid-Late Holocene coastal environmental change at Cape Krusenstern, Northwest Alaska. Quaternary International 549: 84-97. An archaeologist documents a site. In search of spoon-billed sandpipers Read the abstract and link to the paper about shorebirds in the Arctic: Saalfeld, S.T., L. Phillips, S.C. Brown, J.C. Slaght, E.E. Syroechkovskiy, E.G. Lappo, M. Hake & R.B. Lanctot. 2020. In search of Spoon-billed Sandpipers Calidris pygmaea and other avian taxa in northwestern Alaska. Wader Study 127(3): 219–227. spoon-billed sandpiper How Shorebirds Adapt to a Warming Arctic Read the abstract and link to a peer-reviewed article on Arctic shorebird adaptations: Shaftel, R., D. J. Rinella, E. Kwon, S. C. Brown, H. R. Gates, S. Kendall, D. B. Lank, J. R. Liebezeit, D. C. Payer, J. Rausch, S. T. Saalfeld, B. K. Sandercock, P. A. Smith, D. H. Ward, and R. B. Lanctot. 2021. Predictors of invertebrate biomass and rate of advancement of invertebrate phenology across eight sites in the North American Arctic. Polar Biology 44: 237-257. A rock sandpiper on a nest. 200 Generations: On the Beach of their Time: Human-Environmental Dynamics at Cape Krusenstern National Monument, Alaska (2006-2014) Human-Environmental Dynamics at Cape Krusenstern is a collaborative effort between the University of Washington and Western Arctic National Parklands. Research results re-evaluate chronologies and interpretations of settlement patterns at Cape Krusenstern. This presentation will feature discussion of the project background and current results, and highlight the outreach and educational products. Brown Bear Resource Brief for the Arctic Network Alaska has more than 50% of the remaining North American brown bears and the second largest population worldwide. Parks in the Arctic Inventory and Monitoring Network may ultimately provide a refuge for brown bears in northwest Alaska that are adapted to life in the Arctic, but strong monitoring programs are needed to understand whether these bear populations can remain healthy in a rapidly changing Arctic. A brown bear sits in a tundra wetland. Bumble Bees of Alaska: A Field Guide This field guide to bumble bees will help you identify these abundant and conspicuous pollinators, which are found across most of Alaska. They are well-adapted to cold, harsh climates and live in every habitat where there are flowers offering up pollen and nectar, including forests, shrublands, tundra, wetlands, riparian areas, beaches, and gardens. a bumble bee perched on tiny pink flowers Stream Communities & Ecosystems Resource Brief for the Arctic Network Stream flow has changed in recent decades at monitoring sites near the Arctic Network. The timing of peak discharge during spring snowmelt now occurs nearly 10 days earlier than it did 30 years ago. The Kobuk River is now re-freezing later in fall than it did in the 1980s. In headwater streams of the Arctic Network, permafrost thaw is changing watershed hydrology, causing streams to cool and discharge to decline during summer months. Aerial image of a Braided river in Alaska's Arctic Network with mountains in background Indigenous Languages of Alaska: Iñupiaq "Language is the soul of the People" --Wolf A. Seiler, Northwest Alaska is home to the Inupiat People and their traditional homeland spans from Norton Sound to the northeast boundary of Alaska and Canada. The language spoken by the Iñupiat People is Iñupiaq or Iñupiatun. A man takes a selfie in front of a salmon drying rack. Series: Pacific Ocean Education Team (POET) Newsletters From 2009 to 2015, the Pacific Ocean Education Team published a series of short newsletters about the health of the ocean at various National Park Service sites in and around the Pacific Ocean. Topics covered included the 2010 tsunami, marine debris, sea star wasting disease, ocean acidification, and more. Ocean waves wash in from the right onto a forested and rocky shoreline. POET Newsletter Summer 2010 Pacific Ocean Education Team (POET) newsletter from Winter 2009. Articles include: Stewardship Without Boundaries: Conserving Our Ocean Ecosystem from Baja to the Bering Sea; A Seamless Network of Parks, Sanctuaries, Refuges & Reserves; Life Entwined with the Sea: The Non-Coastal Park Connection; Take the Plunge into Ocean Stewardship; Nearshore Vertebrates in Four Hawaii Parks; and Ocean Stewardship: A Commitment to Collaboration. Sea stacks rise above ocean waves washing ashore. A wooded ridge rises in the distance. POET Newsletter Winter 2009 Pacific Ocean Education Team (POET) newsletter from Winter 2009. Articles include: Stewardship Without Boundaries: Conserving Our Ocean Ecosystem from Baja to the Bering Sea; A Seamless Network of Parks, Sanctuaries, Refuges & Reserves; Life Entwined with the Sea: The Non-Coastal Park Connection; Engage Visitors in Ocean Park Stewardship; Inventory Map & Protect Ocean Parks; and Ocean Stewardship: A Commitment to Collaboration for Conservation. A color map indicating the depth of the Pacific Ocean floor. Darker blue represents deeper oceans. Changing climate, changing access for Arctic Indigenous harvesters in National Parklands How is climate change impacting Indigenous communities' access to subsistence coastal resources in and around Western Arctic National Parklands? Recently published research examines this question. Seasonal changes in subsistence harvest windows for Indigenous people in Northwest Arctic Alaska. Qatŋut: Celebrating the Legacy of Trade, Dance, and Connection at Sisualik Qatŋut is a traditional trade fair that celebrates dance, food, culture, connections, and trade among peoples. The fair has its roots in the exchange between Indigenous communities on both sides of the Bering Strait. The Beringia Shared Heritage Program has played a key role in supporting and continuing this tradition. Alaska Park Science 20(2), 2021 Traditional dancers perform in a school gym. Studying Long-term Patterns of Bering Strait Cultural Interaction and Exchange Through Archaeological Ceramic Analysis The study of ceramic technology expands what we know about the extent of social networks over time. This work is exploring the mobility of social networks across Beringia and how people adapted to changing environmental and social circumstances. Alaska Park Science 20(2), 2021 Handmade clay pots over a fire. Series: Alaska Park Science - Volume 20, Issue 2. Beringia: A Shared Heritage This year (2021) is the 30th anniversary of the Shared Beringian Heritage Program. This issue highlights some of the history, intent, and accomplishments of the program. The following articles demonstrate the variety of projects and the values of the program. Indigenous dancers in traditional dress. Arctic Summers are Getting Longer Read a summary and get the link to an article that describes how the Arctic is getting greener: Swanson, D. K. 2021. Start of the green season and normalized difference vegetation index in Alaska's Arctic national parks. Remote Sensing 13(13): 2554. A muskox naps in the tundra. Terrestrial Landscape Dynamics Resource Brief for the Arctic Network Landscape dynamics are the "big picture" of changes in the growing season, vegetation, and surface water. The timing of the start and end of the growing season and snow-free season varies by about a month from year-to-year. The area of lakes and ponds has declined in the northern coastal plain of Bering Land Bridge NP, from about 8.5% of the land surface area in 2000 to less less than 7% by 2019. Tall shrubs are expanding their range and getting denser in some areas. Muskox lying on tundra with a mountain in the background under overcast sky Terrestrial Vegetation and Soils Resource Brief for the Arctic Network Vegetation is the basis for ecosystem productivity and wildlife habitat. Arctic vegetation is very sensitive to climate change and disturbance such as fire, herbivory, and traffic. Research has documented an increase in shrubs and, to a lesser extent, trees in the arctic over recent decades, probably related to climate change. Major changes in vegetation structure such as these have a cascading effect on other ecosystem attributes. scientists measure the cover of plants on the tundra along a tape measure Coastal Erosion Resource Brief for the Arctic Network The coastlines of Bering Land Bridge National Preserve (BELA) and Cape Krusenstern National Monument (CAKR) have eroded in most areas over the past seven decades, but accretion (seaward advance of the shore) has occurred in some places. Erosion at rates of over 1 meter per year continue in many areas and could threaten archeological sites. Tundra and an eroded beach along the coast of Bering Land Bridge National Preserve