"Springwood"
by NPS - Frank Futral ,
public domain
Home of Franklin D Roosevelt

National Historic Site - New York
The Home of Franklin D. Roosevelt National Historic Site preserves the Springwood estate in Hyde Park, New York. Springwood was the birthplace, lifelong home, and burial place of the 32nd President of the United States, Franklin D. Roosevelt.
maps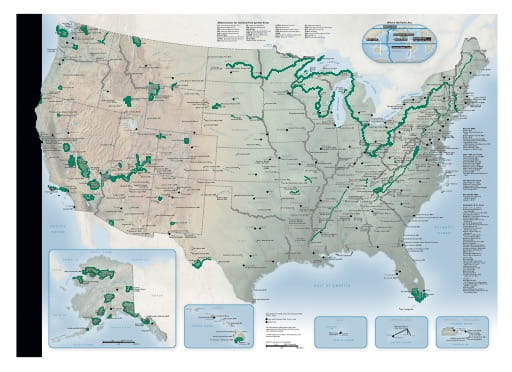 National Park System - National Park Units
Map of the U.S. National Park System. Published by the National Park Service (NPS).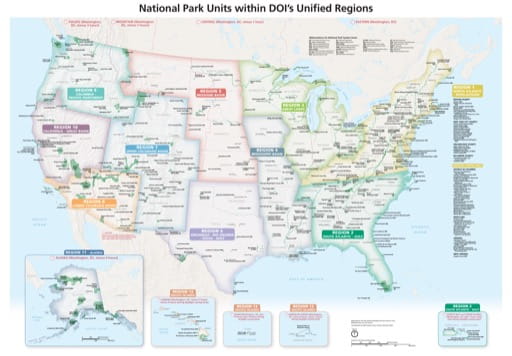 National Park System - National Park Units and Regions
Map of the U.S. National Park System with Unified Regions. Published by the National Park Service (NPS).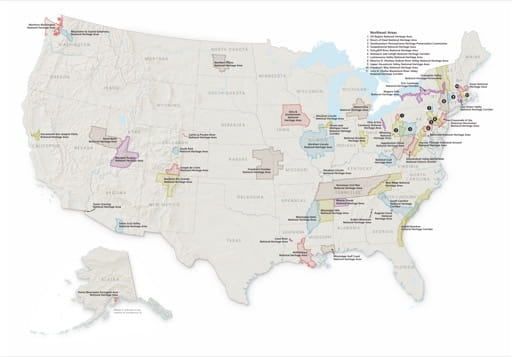 National Park System - National Heritage Areas
Map of the U.S. National Heritage Areas. Published by the National Park Service (NPS).
https://www.nps.gov/hofr/index.htm https://en.wikipedia.org/wiki/Home_of_Franklin_D._Roosevelt_National_Historic_Site The Home of Franklin D. Roosevelt National Historic Site preserves the Springwood estate in Hyde Park, New York. Springwood was the birthplace, lifelong home, and burial place of the 32nd President of the United States, Franklin D. Roosevelt. Home to the 32nd and longest-serving president of the United States, Franklin D. Roosevelt returned to Hyde Park often, drawing on this place to renew his spirit during times of personal and political crisis. Explore the Roosevelt saga in the homes of Franklin and Eleanor Roosevelt, the exhibits at the nation's first Presidential Library, and over a thousand acres of gardens and trails. The Home of Franklin D. Roosevelt National Historic Site is located on Route 9 in Hyde Park, NY about 90 miles north of New York City and 70 miles south of Albany. Henry A. Wallace Visitor Center Named in honor of the man who served as Secretary of Agriculture (1933-1940) and Vice-President during Franklin Roosevelt's third term, the Henry A. Wallace Center offers an array of services designed to enhance your visit to Hyde Park. The visitor center provides information on tours, exhibits, gardens, trails, activities, special events, and the film "Rendezvous with History." Our experienced staff can help you plan an itinerary for your visit. Springwood A stucco and fieldstone house with white trim and circular portico. Springwood, birthplace and home of Franklin D. Roosevelt. View of the Hudson Highlands A vast lawn with apple orchard and mountain range in the distance. A view toward the Hudson Highlands from the south lawn at Springwood. Springwood in the Snow A stucco house with wood portico surrounded by a snowy lawn. Springwood in winter. The Living Room at Springwood A richly furnished room with bookcases and fireplace with portrait hanging above. The living room at Springwood. East Terrace of Springwood A large stucco house with white wood portico and white balustrade. The west terrace, or main entrance, to Springwood. The Marble Headstone Marking Franklin and Eleanor Roosevelt's Burial Site A marble stone carved with the names of Franklin D. Roosevelt and Eleanor Roosevelt on a green lawn. The burial site of Franklin and Eleanor Roosevelt in the family rose garden. FDR's Oval Office Desk Franklin Roosevelt used this desk in the White House Oval Office to preside over the business of the nation. Here he met national and world leaders and delivered hundreds of press conference. Four people looking over a cluttered desk. NETN Species Spotlight - Your Flowers, Shrubs, and Plants Native species - birds, insects, plants, etc - need our help. When planning your yard layout, consider adding some valuable native plants to the mix. Red maple flowers NETN Species Spotlight - Wild Turkey Wild Turkeys are one of the most iconic species in America. They have a long, and as it turns out, mythic history. Wild Tom Turkey. Wayne Dumbleton. NETN Species Spotlight - Hermit Thrush The Hermit Thrush's ethereal song is a mainstay of summers in the Northeastern U.S. But climate change could mean its song will only be heard north of the border if warming continues unabated. A Hermit Thrush perches on the forest floor. National Park Forests - More Than a Pretty Picture A study led by NETN shows that eastern National Park forests hold greater complexity and ecosystem function that the surrounding forest. A forest tech measures the size of a tree. Species Spotlight - Red Crossbill The Red Crossbillis one of the most unique and specialized birds of North America. Learn about their traits and habits, and how you may encounter a flock of them during this irruption year. . A Red Crossbill sits on a conifer tree. Citizen Science in the Digital Age With well over 100 citizen-science based apps now available for smartphones, there is no lack of opportunity for people of all ages and affectations to significantly add to the collective knowledge base about many aspects of the natural world. The phrase "there is an app for that" has perhaps never been more true for natural resource monitoring. Students use microscopes to identify pond species at the Marsh-Billings-Rockefeller NHP Bioblitz. NETN Species Spotlight - Ruby-throated Hummingbird The ruby-throated hummingbird is the only bird of that species that makes its home east of the Mississippi. Learn more about this remarkable bird. A hummingbird feeds on a flower NETN Species Spotlight: Monarch Butterfly The monarch butterfly is a majestic insect. Mimicry, migration, and metamorphosis all help to make it the true king of butterflies. But it's numbers have been dropping dramatically in recent years. Learn more about this amazing species and how you can help to save it. Monarch butterfly on a Meadow Blazing Star plant NETN Species Spotlight: Japanese Knotweed Japanese knotweed is a very robust invasive plant species. Learn why it spreads so readily outside of its native Japan, and how the NPS and other groups are trying to control it. Japanese knotweed plant NETN Species Spotlight: Acorn Barnacle Barnacles may at first glance appear to have the most boring of lives. But dig a little deeper into these crafty crustaceans, and you'll learn they are among the most fascinating of seashore creatures. Barnacle feeding close-up NETN Species Spotlight - Northern Short-tailed Shrew The northern short-tailed shrew seems like an impossible mash-up of different creatures. From venomous saliva to echolocation, this tiny predator employs many tactics to satiate an endless appetite. Short-tailed Shrew The Positive Side of Zero For something that essentially represents "nothingness", the number zero carries a lot of weight when collecting data. a stone zero What's the Buzz? How Bees Interrelate with Birds, Wildflowers, and Deer Ecosystems are complex and intricate and sometimes have a surprising web of relationships. Learn how deer, bees, birds, and wildflowers connect in the park ecosystems of the northeast. A bee pollinates a wildflower Wild, Wacky, and Weird Weather. What the? A look at the difference between weather and climate. A Vermont blizzard. NETN Species Spotlight - Fisher The fisher is a very capable predator of northeastern forests. Learn about the ways this large member of the weasel family makes its living. A large male fisher sitting Species Spotlight - Giant Hogweed Giant hogweed is a particularly nasty intruder across much of the country. Find out how the NPS looks for it in parks, and what to do if you spot one in your yard. A person is dwarfed by a giant hogweed plant. NETN Species Spotlight - Eastern Coyote The eastern coyote is a new predator on the scene. But where did it come from and why is it so much larger than its western cousins? Learn about how this animal came to be and the important ecological niches it is filling in the Northeast. A coyote stares at the camera. Lessons Learned from a Decade of Forest Health Monitoring in NETN After more than 10 years of monitoring forest health in NETN parks, plant ecologist Kate Miller shares here knowledge and insights and current forest conditions and tips on long term forest management. A forest glade Franklin Delano Roosevelt - Assistant Secretary of the Navy From the start, FDR worked to prepare the navy for the coming war, and was troubled that others did not see it his way. Time would prove him right. Franklin Roosevelt NETN Field Note: Deer, Worms, and Invasives When too many deer, earthworms, and invasive plant species work i concert, detrimental effects happen to the health of northeastern forests. Forest health monitoring NETN Species Spotlight - Turkey and Black Vultures Vultures have the thankless job of cleaning the environment up of dead animal carcasses. Learn how they are able to do it without getting sick from deadly bacteria. Close-up of a Black Vulture. Doug Greenberg. NETN Species Spotlight - Sharp-shinned Hawk About the size of a Blue-Jay, Sharp-shinned Hawks are aerial acrobats and are the smallest of three North American agile hawks known as the accipiters (ah-sip-it-ers). Learn more about this amazing and oft misunderstood hawk. Sharp-shinned Hawk perched on a branch NETN Species Spotlight - Snowshoe Hare Snowshoe hare are perfectly adapted to their cold, snow environments. Even so, a warming climate and a complex predator/prey relationship has a large influence on their overall population. The enormous hind feet of snowshoe hare. NPS Geodiversity Atlas—Home Of Franklin D Roosevelt National Historic Site, New York Each park-specific page in the NPS Geodiversity Atlas provides basic information on the significant geologic features and processes occurring in the park. [Site Under Development] ranger welcome NETN Species Spotlight - Ruffed Grouse Ruffed Grouse have evolved many effective and surprising traits that allow them to survive northeastern winters. Ruffed Grouse displaying Lucas Bobay Structural Fire Prevention: Protecting Our Ghosts Many threats make managing our cultural resources challenging, especially fire. Article details the 1982 electrical fire at Home of Franklin D. Roosevelt. The Northeast Region became the first to establish a regional structural fire program manager position. NPS has more than 1,330 historic properties and a collection containing more than 105 million items. The NPS cannot underestimate the threat of structural fires to our cultural resources, let alone the risk to employees. photos of exterior building serious damage from an electrical fire in 1982 Franklin D. Roosevelt's Enduring Memorial Perhaps no sitting U.S. President was more active in designing his memorial legacy than Franklin Delano Roosevelt. By his second term in office, FDR was planning the presidential library and the preservation of his home—gifts to the people of the United States. He also expressed his wish to be buried in the rose garden at his family home in Hyde Park, and even outlined the details for a simple monument to mark his grave. A white marble gravestone on a lawn surrounded by a tall hedge. A Land History of the Roosevelt Estate A land history of Franklin and Eleanor Roosevelt's home in Hyde Park, New York. A couple with umbrella overlooking a river landscape. The Coach House and Stables The Queen Anne-style Coach House, also known as the Stables, was built in 1886 for FDR's father James Roosevelt. The Coach House was designed by noted Hudson Valley architect Frederick C. Withers of Newburgh, New York, among the first generation of professional architects in America. A clapboard and shingle building with central cupola. NETN Species Spotlight - Short-tailed Weasel The short-tailed weasel is as energetic as it is resourceful. It has had a reputation of being both virtuous and vile over the centuries. Find out more about the amazing capabilities of this slender member of the weasel family An ermine in full white. Bellefield Cultural Landscape In 1885, New York State Senator Thomas Newbold acquired the property at Bellefield. During his ownership, the main house was remodeled in the Colonial Revival style, a number of buildings and features were added, and formal walled garden was designed by landscape gardener Beatrix Farrand. Most of these construction changes were completed by 1917. The landscape is preserved along with nearby Springwood, the estate of Franklin D. Roosevelt. Flowering trees frame a stone house, with two windows opposite the door. The Rose Garden Franklin D. Roosevelt's mother Sara redesigned an existing kitchen garden in 1912 into a large flower garden planted with rose beds, herbaceous borders, and a perennial beds surrounding open lawns. FDR chose this garden for his final resting place. A rose bush in full bloom. NETN Species Spotlight - Paper Birch The Paper Birch is undeniably a tree of the north woods. Entwined in lore and legend, it has been a key part of ecosystems and cultures since well before the time of the Neanderthals even. Paper birch trees in winter. FDR's 1936 Ford Phaeton FDR's blue Ford Phaeton, specially designed and fitted with hand controls that allowed him to drive without the use of his legs. He used this car at Hyde Park and enjoyed driving around the countryside. A convertible automobile behind a glass wall. Fala President Roosevelt and four-month-old Fala on a picnic near Pine Plains, N.Y. on August 8, 1940. President Roosevelt and his dog Fala on a picnic FDR's Office at Springwood FDR returned to Hyde Park 137 times during his presidency, continuing to seek both peace and inspiration from the place with which he was most familiar. While he was in residence at Hyde Park, FDR participated in community life; welcomed dignitaries, supporters, and the media; and conducted the work of the presidency. A man sits behind a desk with papers in his hand. Disability History: Presidents and Disability Nearly 50 million people live with disabilities in the US. This population has included our nation's presidents. Dwight Eisenhower had a learning disability. Abraham Lincoln lived with depression. James Madison had epilepsy. Franklin D. Roosevelt had polio. John F. Kennedy lived with several medical issues. Places associated with these presidents, including those in NPS parks and recognized by NPS programs, continue to honor these presidents' memories. Exterior of a green wood sided house with yellow trim. NETN Species Spotlight - Serviceberry Though it goes by many names, the serviceberry tree is much loved by people and birds alike. Learn more about one of spring's first bloomers and why you should plant one in your yard. Serviceberries ripening. Restoring the President's Home Preservation never ends for the more than 50 historic structures, five gardens, and over a thousand acres of landscapes, woodlands, and trails managed by the National Park Service in Hyde Park, New York. Two park rangers repair a wooden porch. FDR's Fireside Chats President Roosevelt's fireside chats were delivered by radio between 1933 and 1944. FDR used these radio addresses to present his programs and ideas directly to the public, thereby redefining the relationship between the President of the United States and the American people. A man (FDR) seated at a desk delivering a radio address. Kast Large cupboards such as this, known as a kast (or kas), represented an important form of furniture in the Netherlands during the early seventeenth century. To showcase an owner's prosperity, a kast was prominently positioned in the home. While functional, they also embodied status, lineage, and national identity—so important that wealthy Dutch families in New York imported them from the Dutch Republic. A carved cupboard. Preserving the Roosevelt Grave Monument While burial sites are often considered to be perpetual, their most prominent feature—grave markers—are not. At the Home of Franklin D. Roosevelt National Historic Site, preservation treatments are used to preserve the Roosevelt grave monument and protect it from future deterioration. Regular maintenance is key to extending the life of the grave monument and honoring the legacies Franklin and Eleanor Roosevelt. a man cleans a marble grave monument. NETN Species Spotlight - American Woodcock The American Woodcock is a quirky bird. Learn about their habits. and why they are a welcome sight (and sound) each spring in the Northeast, An American Woodcock walks on the forest floor. Timeline of Franklin D. Roosevelt's Life A timeline of significant dates and events in the life of Franklin D. Roosevelt, 32nd President of the United States. A family poses for a portrait. On Presidential Births and Deaths There are many connections between the Presidents. This article will explore some of those connections. the United States Presidential Seal Species Spotlight - Puffballs Puffballl mushrooms offer many joys - from stomping on them as children to eating them fried with butter. Learn more about this natural history of this fascinating fungi. Puffball emitting spores. FDR's Conservation Legacy Franklin D. Roosevelt's New Deal programs, combined with his enthusiasm for conservation, laid a firm foundation for protecting the nation's natural bounty. President Roosevelt left a conservation legacy essential to a healthy 21st-century environment—one that we continue to build upon today. A man (FDR) at a podium before a crowd in a mountain landscape. Ice Yachting on the Hudson Sailing on ice began as a utilitarian mode of transportation for the Dutch, who attached metal and wood runners to the bottoms of hulled working boats. Wealthy residents of the Hudson River embraced the recreational potential for sailing on ice, including perhaps the sport's most famous captain, Franklin D. Roosevelt. An engraving of ice boats and figures on a frozen river. Series: Disability History The Disability History series brings attention to some of the many disability stories interwoven across the National Park Service's 400+ units and its programs. "Disability stories" refer to the array of experiences by, from, and about people with disabilities represented across our nation. People with disabilities are the largest minority in the United States, but their stories often remain untold. Statue of FDR in his wheelchair Series: National Park Service Geodiversity Atlas The servicewide Geodiversity Atlas provides information on <a href="https://www.nps.gov/subjects/geology/geoheritage-conservation.htm">geoheritage</a> and <a href="https://www.nps.gov/subjects/geology/geodiversity.htm">geodiversity</a> resources and values all across the National Park System to support science-based management and education. The <a href="https://www.nps.gov/orgs/1088/index.htm">NPS Geologic Resources Division</a> and many parks work with National and International <a href="https://www.nps.gov/subjects/geology/park-geology.htm">geoconservation</a> communities to ensure that NPS abiotic resources are managed using the highest standards and best practices available. park scene mountains World War II World War II was the defining moment of the twentieth century, a time when life and liberty were being extinguished around the world, and civilization itself was in peril. America responded, uniting as never before or since in a common purpose to defeat the forces of evil and the spread of totalitarianism. Soldiers approaching a beach ready for combat. Roosevelt Home Garden Report 2020 2020 was an unusual but important year in the Roosevelt Home Garden. This year, 315 crates of produce were delivered to the Dutchess Outreach Fresh Market. We added a second weekly delivery during peak harvest times, which was greatly needed and appreciated by the market. Crates of vegetables harvested from a lush garden. Roosevelt-Vanderbilt National Historic Sites B.A.R.K. Rangers Become a B.A.R.K. Ranger at Roosevelt-Vanderbilt National Historic Sites. Graphic image of a dog with the words B.A.R.K. Ranger. Tomah Joseph—Passamaquoddy Elder Who Mentored a President Tomah Joseph was a Passamaquoddy Tribal Citizen and Native leader. He was renowned as a skilled craftsman and fishing guide, and it was his kindness and expertise that left a lasting impact on a young Franklin D. Roosevelt. An elderly man in feathered head dress canoing in open water. Species Spotlight - Cecropia Moth Cecropia moths are the largest moth in North America. Their fascinating one-year life cycle is one of the most amazing transformations known to nature. Face of a male cecropia moth. Invasion of the Biome Bashers Invasive plants are a concerning and growing issue for eastern national parks. Learn what is spreading, and how some parks are seeing success in managing them. Glossy buckthron Diane Harris Dayson Diane Harris was initially reluctant to pursue a Park Service career. However, she soon found that national parks were "in her blood". Her 26-year career saw her rise from clerk to superintendent at one of our most iconic national monuments. Diane Dayson wearing the NPS uniform with badge and ranger flat hat. Resilient Forests Initiative - Managing Deer Impacts A healthy forest needs to have enough tree seedlings and saplings to regenerate the forest canopy after a disturbance. Analysis of NPS I&M and other long-term datasets makes it clear that many eastern national parks lack adequate tree regeneration due to decades of over browsing by white-tailed deer. Deer impacts I&M Networks Support Resilient Forest Management NPS Inventory and Monitoring Networks have been tracking forest health in eastern national parks since 2006. This monitoring information can guide resilient forest management and support parks in adapting to changing conditions through the actions described below. Forest health monitoring Managing Resilient Forests. A Regional Initiative Forests cover tens of thousands of acres in eastern national parks and these critical resources face a range of interacting stressors: over-abundant white-tailed deer populations, invasive plant dominance, novel pests and pathogens, among other threats. The Resilient Forests Initiative will help parks address these issue collectively. Forest health monitoring Series: Managing Resilient Forests Initiative for Eastern National Parks Forests in the northeastern U.S. are in peril. Over-abundant deer, invasive plants, and insect pests are impacting park forests, threatening to degrade the scenic vistas and forested landscapes that parks are renowned for. With regional collaboration, parks can manage these impacts and help forests be resilient. This article series explores tools available to park managers to achieve their goals. Healthy forests have many native seedlings and saplings. Species Spotlight - Eastern Phoebe The return of Eastern Phoebes early each spring is a soul-satisfying, calendar-turning event after a long northeastern winter. Eastern Phoebe Resilient Forests Initiative - Managing Invasive Plants & Pests Park forests are threatened by invasive plants and pests. Strategically tackling invasive plants to protect park's highest priority natural resources and planning around forest pests and pathogens are important actions in managing resilient forests. Forest Regeneration Species Spotlight - Deer Tick Deer ticks are an increasing problem in the northeast. Learn more about why they are increasing, the way they spread Lyme disease, and how to prevent getting a tick bite. And there are also lizards. Warm lizard. Species Spotlight - Dragonflies Dragonflies have incredible powers of flight and vision. Learn how they use these to catch just about anything they want on the wing. Dragonfly nymph. Polio The United States experienced its first polio epidemic in Vermont in 1894. The disease ultimately became a nationwide health crisis with further outbreaks in 1916 and 1949. It was the most notorious U.S. disease of the mid-twentieth century. A group of adults and children, some supporting themselves with crutches. Species Spotlight - White Ash White ash trees are an integral part of the forests of the Northeast, and they are under grave threat of ceasing to exist as a mature canopy species in the near future. The culprit is a tiny invasive insect called the Emerald Ash Borer. Learn more about the current state of ash trees in the region, and learn how to help slow the spread of this destructive forest pest. White ash seedling Species Spotlight - Oaks Oaks appear so often in the story of humanity that it could scarcely have been written without them. Learn more about this amazing trees species and how it has shaped cultures across the world. A white oak branch with acorns Species Spotlight - Flying Squirrels Tiny and cute, flying squirrels are efficient gliders with a few surprises tucked away under their furry sleeves. A Southern Flying Squirrel. Guide to the Thomas J. Allen Photograph Collection Finding aid for the Thomas J. Allen Photographs in the NPS History Collection.