"John F. Kennedy National Historic Site"
by NPS ,
public domain
John Fitzgerald Kennedy

National Historic Site - Massachusetts
The John Fitzgerald Kennedy National Historic Site is the birthplace and childhood home of John F. Kennedy, the 35th President of the United States. The house is at 83 Beals Street in the Coolidge Corner neighborhood of Brookline, Massachusetts.
maps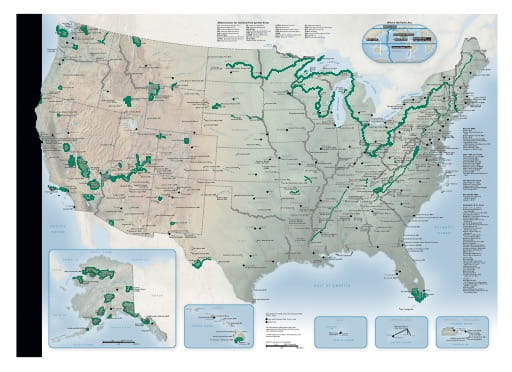 National Park System - National Park Units
Map of the U.S. National Park System. Published by the National Park Service (NPS).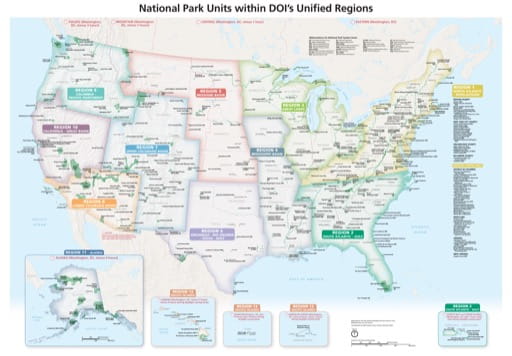 National Park System - National Park Units and Regions
Map of the U.S. National Park System with Unified Regions. Published by the National Park Service (NPS).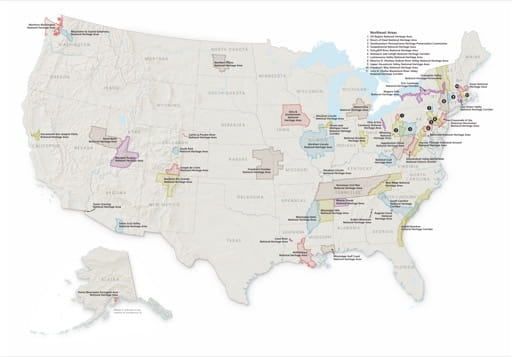 National Park System - National Heritage Areas
Map of the U.S. National Heritage Areas. Published by the National Park Service (NPS).
https://www.nps.gov/jofi/index.htm https://en.wikipedia.org/wiki/John_Fitzgerald_Kennedy_National_Historic_Site The John Fitzgerald Kennedy National Historic Site is the birthplace and childhood home of John F. Kennedy, the 35th President of the United States. The house is at 83 Beals Street in the Coolidge Corner neighborhood of Brookline, Massachusetts. As a boy, JFK's parents never expected he would grow up to be president. Yet in his birthplace home he learned values that inspired a life in public service. His mother, Rose Kennedy, recreated her family's first home to share her memories of those early years with visitors. We commemorate not only his early life, but the ideas and principles he left behind. By Subway: Take Green line ("C" -Cleveland Circle) trolley to Coolidge Corner stop. Walk four blocks north on Harvard Street, turn right on Beals Street and continue to number 83. By Car: From Exit 18 (I-90 E) or Exit 20 (1-90 W) follow the Allston/Brighton exit ramp, merge onto Cambridge Street and go one mile. At the fourth light, turn left on Harvard Street and proceed about one mile. Turn left on Beals Street and go to number 83. Limited Street Parking available. John Fitzgerald Kennedy National Historic Site John Fitzgerald Kennedy National Historic Site Photograph of the birthplace of John F. Kennedy on Beals st. in Brookline, MA Nursery Room with white wicker furniture, including bassinet and rocking chair. Long white baby dress hangs. The Kennedy christening gown on a stand next to the bassinet in which all the Kennedy children slept, at the John F. Kennedy National Historic Site. Kennedy Dining Room Dining room with oval dining table with six place settings of silver and fine china. The dining table is set with the fine china and silver that Rose Kennedy received as a wedding present. (H)our History Lesson: Through a Mother's Eyes, Rose Kennedy in Brookline Explore Rose Fitzgerald Kennedy's memories of raising her oldest children, among them future President John F. Kennedy, in Brookline, Massachusetts. Two adults and five young children June: A Month of Milestones The times are a changin', and there's no better time to honor those moments of change than in June. Over the course of America's history, the month of June is filled with cultural changes, and some seasonal ones too. So just before the season changes and summer begins, take some time to visit these parks that commemorate extraordinary moments. Painting of suffragist on a horse Mona McKindley Mona McKindley is a gardener at three national historic sites in the Boston metropolitan area. She is responsible for the daily care of all three former residential landscapes, two of which were designed by famous designers and pioneers in the American landscape architecture profession. Her knowledge for both horticulture and history guides her stewardship of these landscapes. Mona McKindley sprays water from a hose onto plants in a garden. John Fitzgerald Kennedy National Historic Site Celebrates 50th Anniversary On May 29, 2019, John Fitzgerald Kennedy National Historic Site celebrated President Kennedy's 102nd birthday, the 35th annual Coolidge Corner School program "What JFK Means to Me", and the 50th Anniversary of its opening day in a public ceremony. Guest speakers included Northeast Regional Director for the NPS Gay Vietzke, U.S. Congressman Joseph P. Kennedy III, and Kennedy scholars and award-winning authors Barbara Perry, David Nasaw, and Fredrik Logevall. John Fitzgerald Kennedy National Historic Site Commemorates the 50th Anniversary of the Moon Landing On July 20, 1969, President Kennedy's dream of landing an American on the moon was realized. To celebrate the 50th anniversary of this historic achievement, John Fitzgerald Kennedy National Historic Site presented several "out-of-this-world" interpretive programs over the weekend. President Kennedy Remembered at His Birthplace 54 Years after His Assassination On November 22, John Fitzgerald Kennedy National Historic Site held a special Day of Remembrance Ceremony to commemorate the life and legacy of its namesake. The program included a wreath-laying with representatives from local religious institutions, speeches from local dignitaries and NPS staff, music, a color guard from the USS Constitution, and a 21-rifle salute and the playing of "Taps", provided by the Leatherneck Honors Society of Massachusetts. Two rangers are placing a wreath in front of the John Fitzgerald Kennedy NHS home. John Fitzgerald Kennedy National Historic Site Celebrates Semi-Centennial and President Kennedy's 100th birthday John Fitzgerald Kennedy National Historic Site had a big celebration of President Kennedy's "100th birthday" over the long weekend of May 26-29. Unveiling of JFK stamp by the USPS. Disability History: Presidents and Disability Nearly 50 million people live with disabilities in the US. This population has included our nation's presidents. Dwight Eisenhower had a learning disability. Abraham Lincoln lived with depression. James Madison had epilepsy. Franklin D. Roosevelt had polio. John F. Kennedy lived with several medical issues. Places associated with these presidents, including those in NPS parks and recognized by NPS programs, continue to honor these presidents' memories. Exterior of a green wood sided house with yellow trim. Dial-A-Ranger Want to go deeper with the Kennedy story? Give a ranger a call at (617) 299-2176, Monday - Friday, 9:00am-12:00pm and 1:00pm-4:00pm EST. Holidays excluded. Ranger sitting at a table, talking on the phone. Minting a Legacy: The History of the Kennedy Half Dollar Within days of President John Fitzgerald Kennedy's assassination, on November 22, 1963, the U.S. Treasury and U.S. Mint prepared to issue a coin in his memory. Kennedy Half Dollar. The front or Obverse of the coin. Commemorating Camelot: Three Women Who Shaped JFK's Legacy Rose Fitzgerald Kennedy, Jacqueline Kennedy, and Caroline Kennedy. Together these women shaped the public's remembrance of President Kennedy by likening him to King Arthur, a hero who embodied courage, diplomacy, and self-sacrifice. They also created the perception that the Kennedy presidency was like the era of Camelot, a mythical time associated with a sense of unfulfilled promise. Rose Kennedy stands at a podium facing left of frame. Commemoration, Memorialization, and Legacy: An Exploration of the Public and Private Memory of John F. Kennedy and His Presidency This lesson will allow students to explore the theme of commemoration, memorialization, and legacy through reading of primary and secondary sources. They will engage in a consideration of how historical memory is shaped and how we commemorate people and places. The lesson will also allow students to make connections about their own thoughts and feelings regarding history and how it is commemorated. President Kennedy sitting at desk in oval office. A House of a Different Color In the Fall of 2012 the John Fitzgerald Kennedy National Historic Site was repainted grey. How does our understanding of history and memory change historic structures? Green 2 story house with cream trim. Gas lamp on sidewalk. The Kennedys and the Civil Rights Movement The 1950s and 1960s were a period of continued struggle for civil rights and equality under the law. What role did President Kennedy take during this period of moral crisis? Robert Kennedy stands with Civil Rights Leaders outside of the White House Rosemary Kennedy, The Eldest Kennedy Daughter For many years, the American public knew little about the eldest Kennedy daughter, Rosemary. Her life inspired her family members to take up work for people with intellectual and physical disabilities Child stands in winter coat on porch. Rose Fitzgerald Kennedy: A Life to Remember Daughter of Boston's Mayor, Wife of an Ambassador, Mother to senators, philanthropists, diplomats, and a president, Rose Fitzgerald Kennedy was a celebrity in her own right. Explore her history. Rose Kennedy in a white blouse and scarf stands in front of a glass showcase in her home. John F. Kennedy: World War II Naval Hero to President John F. Kennedy served as a naval combat officer in the South Pacific fighting the Japanese following the attack on Pearl Harbor. His ability to make quick decisions under stress with the welfare of those around him would be put to the test like no other on a fateful August night in 1943. It was one of those moments he learned you do what you've got to do. He was lauded a hero for which he said "it was involuntary, they sank my boat". John F. Kennedy as naval officer in 1942 A History of 83 Beals Street, Brookline, Massachusetts: Birthplace of John Fitzgerald Kennedy A history of the birthplace of President John Fitzgerald Kennedy. Grey house in neighborhood Eunice Kennedy Shriver: Champion for Change Eunice Kennedy Shriver dedicated her life to the empowerment of people with disabilities. Her legacy lives on through the Special Olympics, which she founded in 1968. Eunice Kennedy Shriver and a Special Olympics athlete raise their arms in a sign of victory Joseph P. Kennedy Sr.: Family Patriarch Joseph P. Kennedy Sr. is a complicated figure with a variety of identities over the course of his life: a son, a brother, a student, a husband, a father, a financier, a film producer, and a public servant. Joe Kennedy at a desk. 1914 Joseph Patrick Kennedy Jr. : A Dream Unfulfilled In a family where expectations ran high, Mr. and Mrs. Kennedy had especially high hopes for their first child Joseph P. Kennedy Jr. After Joe's birth, his grandfather John Fitzgerald, the former mayor of Boston, remarked to local newspapers that his grandson would grow up to be the first Catholic president of the United States. While Joe Jr. would not live to fulfill his family's dreams, his short life was distinguished by ambition, bravery, and a strong commitment to family. A black and white photo of Joseph P. Kennedy Jr. in his service uniform. Series: Disability History The Disability History series brings attention to some of the many disability stories interwoven across the National Park Service's 400+ units and its programs. "Disability stories" refer to the array of experiences by, from, and about people with disabilities represented across our nation. People with disabilities are the largest minority in the United States, but their stories often remain untold. Statue of FDR in his wheelchair Series: Women's History to Teach Year-Round Women's history is not just for the month of March! The lessons in this series span the geography of the US and cover diverse women's experiences through the nineteenth and twentieth centuries. Each lesson includes a primary or secondary source reading, photographs, and activities. These short lessons are designed to fit into an hour or less. This series was created by Talia Brenner and edited by Katie McCarthy, NCPE interns with the Cultural Resources Office of Interpretation and Education. Four women in a car John Fitzgerald: Mayor of a Bigger, Better, Busier Boston John Francis "Honey Fitz" Fitzgerald (1863-1950) was a Boston politician and grandfather to President Kennedy. Early in his life, fateful events led John Fitzgerald into politics. He served as a State Senator, a U.S. Congressman, and the first American-born Irish mayor of Boston, MA. His life, career, and legacy assisted and influenced the rise of John F. Kennedy. Man sitting. Black jacket with white shirt and tie. The Kennedy Family Maids of 83 Beals Street, Brookline, Massachusetts Joseph and Rose Kennedy employed live-in maids when they resided in their first home at 83 Beals Street, Brookline, MA. Mrs. Kennedy mentioned that she had help, but never identified who these people were. Through research, discoveries were made about the women who lived with, and worked for, the Kennedy family. A middle-aged woman with dark hair and a white blouse stands in front of an off-white background A Rise to Prominence: John F. Kennedy's Paternal Lineage The Kennedy family name was not always synonymous with wealth, power, and politics. Uncover John F. Kennedy's life and paternal ancestry, to learn about the factors which made his presidency possible. Patrick Joseph Kennedy, wearing a dark suit and round glasses. He has a thick dark mustache. John Fitzgerald Kennedy: The First One Hundred Years On May 29, 2017, John F. Kennedy would have celebrated his 100th birthday. Commemorative efforts were made at his birthplace, and around the country, to honor him. Explore the presidency and legacy of this enigmatic American leader. JFK laughing behind a podium with the presidential seal Lace Baby Bonnet A lace baby bonnet decorated with shamrocks from the Kennedy family. lace baby bonnet featuring shamrock pattern Underwood Deviled Ham Cans A set of antique cans of deviled ham from the Underwood Company, from the recreated Kennedy kitchen. metal can with white paper label featuring red and black illustration of devil and text Limoges Demitasse Cup A demitasse cup with shamrock decoration that belonged to Rose Fitzgerald Kennedy. white china cup with gold handle and gold rim decorated with shamrocks Toy Cannon A toy cannon made by the Ives & William Toy Company of Bridgeport, Connecticut, circa 1895. metal toy cannon mounted on carriage with four wheels, side stamped SWAMP ANGEL Joseph P. Kennedy, Sr.'s Razor A 1920 Gillette safety razor, owned by Joseph P. Kennedy, Sr. silver safety razor with straight handle and single blade Cut Glass Decanter and Cocktail Glass Though Mrs. Kennedy remembered rarely entertaining and never having cocktails in her Brookline home, she placed this set of ruby cut glasses and matching decanter in the refurnished house. Cocktail or wine glass with red and clear cone on clear stem and foot Telephone An early 20th century candlestick style telephone, from the front hall of the Kennedy home. black telephone with round mouthpiece on stick and cone shaped earpiece with cord on stand Ceramic Spill Vase One of a pair of Staffordshire pottery figures in the guest bedroom of the Kennedys' Beals Street home. multicolored ceramic figure with fox looking up at rooster in tree; body of tree is a vase Silver Clock This clock is displayed in the master bedroom of the Beals Street house, next to the bed in which John F. Kennedy was born. Small clock with silver frame and feet, set to 3:00 Fresh Pond Ice Company Sign Displayed in a front window of the Kennedys' Beals Street house, this sign indicated that they required a delivery of ice from the local ice company. square card set on point with black text reading Fresh Pond Ice Company Rosemary Kennedy's Silver Hand Mirror The mirror is believed to have belonged to Rosemary (Rose Marie) Kennedy, younger sister of President John F. Kennedy. back of silver hand mirror with RMK monogram center back Ice Tongs Before modern refrigeration, these tongs were an important tool in helping to keep perishable food items fresh longer. large metal tongs with curved and pointed legs Electric Toaster For many of the visitors who view the Kennedy house, this appliance is one of the least recognizable objects in the kitchen. An early electric toaster with decoratively pierced metal sides and a brown cord Billy Whiskers Book Rose Kennedy selected this book, Billy Whiskers' Kids, to be prominently displayed in the recreated nursery of her Beals Street home. Book cover, illustration of goat butting a fence on blue background with title Billy Whiskers' Kids A Teacup from Sir Thomas Lipton Sir Robert Lipton gave this teacup to the Fitzgeralds as a memento of their visit aboard his steam yacht "Erin." White teacup with image of two flags, one green with gold shamrock and one a blue pennant with harp Steiff Teddy Bear A 1960s Steiff teddy bear used to furnish the Kennedy nursery. face of light brown jointed teddy bear Ceramic Jewel Box A porcelain jewel box with a fake Sevres manufacturer's mark. Ceramic lidded box decorated in cream, green, and gold Japanese Satsuma Style Vase A Japanese Satsuma style vase from the Kennedy family parlor in the Beals Street house in Brookline, Massachusetts. footed vase with round body and flared lip, decorated with scene of two figures and floral design French Urns A pair of decorative metal urns sit on top of the china cabinet in the Kennedy dining room. Green metal urn with wide opening, gold handles, and painted scene of classical ruins Universal Food Chopper This item from the Kennedy kitchen in Brookline is not often seen in 21st century domestic kitchens. It is a Universal Food Chopper manufactured by the Landers, Frary & Clark company. funnel of metal kitchen tool with funnel and crank, stamped 2 and UNIVERSAL Kennedy Punch Bowl This porcelain punch bowl belonged to the Kennedy family while they lived in Brookline. Peach colored bowl on stand with decoration of bunches of grapes Westclox Big Ben Clock A Westclox Big Ben type 1 model alarm clock from the early 20th century. Clock with Arabic numerals set to 3:00, with small dial under 12 repeating 1 to 12 with single hand JFK's Silver Porringer Very early in life John F. Kennedy received this silver porringer, perhaps as a christening gift. silver bowl with round body, hammered decoration, and block JFK monogram Kennedy Napkin Rings The Kennedys received this pair of silver napkin rings engraved with "Rose" and "Joe" as a wedding present in 1914. Silver napkin ring with floral decoration, engraved "Rose" in large medallion. Madonna and Child Painting This painting, a reproduction of Raphael's 1504-1505 painting "The Madonna of the Grand Duke," is one of the few visual indications of Rose Kennedy's devout Catholicism in the Beals Street home. portrait of woman and baby in an elaborate gilt frame with pointed arch shape Toy Blocks Toy blocks from West Germany in John F. Kennedy's nursery. Two square blocks with red edges and illustrations including a girl pushing baby carriage and goats The New Frontier: National Parks of the Kennedy Era President John F. Kennedy recognized the importance of safeguarding natural and cultural landscapes. He left behind a legacy of conservation, signing into legislation sixteen national park units. Explore the parks created during the Kennedy Administration. President Kennedy stands with a uniformed National Park Service ranger Edward Moore Kennedy: A Legacy of Public Service While he was often compared to his older brothers John and Robert, whose mystique captivated the American public, Ted Kennedy not only helped carry forth their legacies but carved his own on the American political landscape. Elected nine times, Ted Kennedy was one of the longest serving and most consequential senators in United States history. A color photo of an older Ted Kennedy. He is wearing a dark suit and tie. Robert Francis Kennedy, an Agent of Hope Appointed by President Kennedy as U.S. Attorney General, Robert Kennedy's influence extended far beyond his title and he became one of President Kennedy's most trusted advisors. In 1964, Robert Kennedy successfully ran for a U.S. Senate seat from New York. In 1968, he made his own bid for the White House becoming a champion for the vulnerable and dispossessed. Tragically, he was assassinated on the campaign trail. A black and white photo of Robert F. Kennedy at a podium. The Kennedy Administration and the First Minuteman Deployment Democrats campaigned against Republican Cold War policies, charging that they had allowed the Soviets to get ahead of the United States in missile development, creating a missile gap. The "gap" represented the difference between the number of missiles it was believed the Soviets possessed and the number of American missiles. Ironically, a missile gap did not exist. President Kennedy with an Air Force Officer Kennedy, Rockefeller, and Civil Defense In May 1961, as Chair of the Civil Defense Committee of the Conference of Governors, Nelson Rockefeller met with President Kennedy to advocate for a national fallout shelter program. Two weeks later, Kennedy addressed a joint session of Congress, noting the "apathy, indifference, and skepticism" surrounding civil defense policy and asking for appropriations for "a much strengthened Federal-State civil defense program." Artist's rendition of a Temporary Basement Fallout Shelter Kennedy Mantle Clock This glass encased clock is prominently displayed on the mantle in the parlor of the Kennedy family's Beals Street home. Shelf clock with rectangular gilded case, glass front, and white enamel face. John F. Kennedy's Christening Gown This off-white christening gown was worn by John F. Kennedy and his siblings. Off-white baby's dress with lace details Parian Figurine A small figurine is displayed on a table in the living room of the Kennedy house in Brookline. A white figurine of a young Scottish couple Beanpot On the stove in the Kennedy house kitchen sits an earthenware, two-tone beanpot. a brown and white pot used for cooking beans McLoughlin Bros. Puzzle A late 19th century puzzle by the McLoughlin Bros., Inc. of New York, chosen to furnish the Kennedy nursery. A puzzle depicting a ship with steam and sails on the ocean PT Boats of World War II: From Home Front to Battle PT (Patrol, Torpedo) boats were small, fast, and expendable vessels for short range oceanic scouting, armed with torpedoes and machine guns for cutting enemy supply lines and harassing enemy forces. Forty-three PT squadrons, each with 12 boats were formed during World War II by the U.S. Navy. PT boat duty was very dangerous and the squadrons suffered an extremely high loss rate in the war. About a dozen men, some shirtless, standing in small groups on deck of boat with flag and guns. Series: Cold War Civil Defense: From "Duck and Cover" to "Gun Thy Neighbor" The very notion of citizen-constructed civil defense—responsibility for fallout protection undertaken by individual American suburban families—has been depicted by some historians as a cynical, low-cost ploy to calm the fears of and elicit compliance from the American pubic in the terrifying face of nuclear brinksmanship over which they had no control. Photograph of a display of survival supplies for the well-stocked fallout shelter, ca.1961.