"Kalaupapa Settlement and Peninsula"
by NPS/T. Scott Williams ,
public domain
Kalaupapa

National Historical Park - Hawaiʻi
Kalaupapa National Historical Park is located in Kalaupapa, Hawaiʻi, on the island of Molokaʻi. The parks goal is to preserve the cultural and physical settings of the two leper colonies on the island of Molokaʻi, which operated from 1866 to 1969 and had a total of 8500 residents over the decades. More than 7300 people live on the remainder of the island, which was a site of cattle ranching and pineapple production for decades. Much of these lands were purchased and controlled by the owners and developers of Molokai Ranch. This part of the island is also a tourist destination.
maps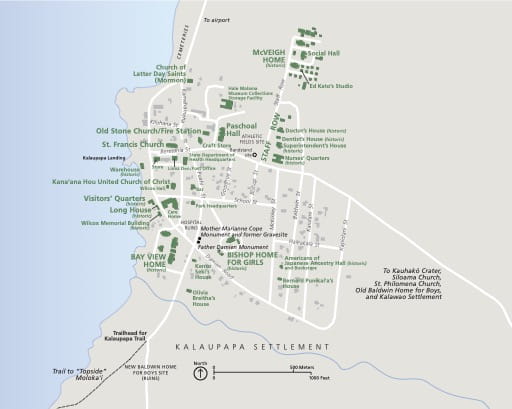 Kalaupapa - Visitor Map
Official visitor map of Kalaupapa National Historical Park (NHP) in Hawaiʻi. Published by the National Park Service (NPS).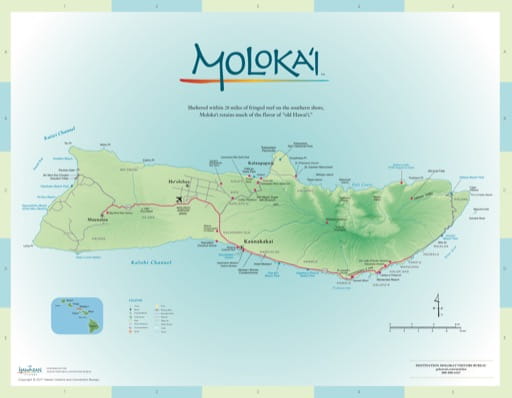 Moloka'i - Driving Map
Driving Map of Moloka'i (Molokai) in Hawaii. Published by the Hawaii Visitors & Convention Bureau.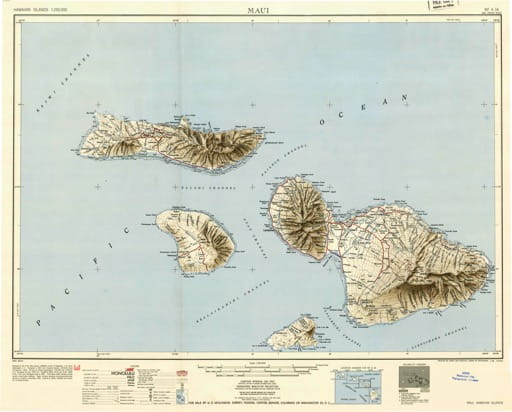 Maui - Vintage USGS Map - Maui 1951
Vintage map of Hawaiian Islands - Maui 1951. Published by the U.S. Geological Survey (USGS).
https://www.nps.gov/kala/index.htm https://en.wikipedia.org/wiki/Kalaupapa_Leprosy_Settlement_and_National_Historical_Park Kalaupapa National Historical Park is located in Kalaupapa, Hawaiʻi, on the island of Molokaʻi. The parks goal is to preserve the cultural and physical settings of the two leper colonies on the island of Molokaʻi, which operated from 1866 to 1969 and had a total of 8500 residents over the decades. More than 7300 people live on the remainder of the island, which was a site of cattle ranching and pineapple production for decades. Much of these lands were purchased and controlled by the owners and developers of Molokai Ranch. This part of the island is also a tourist destination. When Hansen's disease (leprosy) was introduced to the Hawaiian Islands, King Kamehameha V banished all afflicted to the isolated Kalaupapa Peninsula on the north shore of Molokai. Since 1866, more than 8,000 people, mostly Hawaiians, have died at Kalaupapa. Once a prison, Kalaupapa is now a refuge for the few remaining residents who are cured but were forced to live their lives in isolation. Kalaupapa is an extremely isolated place, surrounded on three sides by ocean and two-thousand foot cliffs on the fourth. Consequently, there is no road access into the peninsula. Kalaupapa cannot be reached by automobile. To get to the park, visitors must travel by air, mule, or on foot. See the park's Direction and Transportation webpage for additional information. AJA Hall Bookstore There are no visitor centers within the park, though the park does have a bookstore located at the American of Japanese Ancestry (AJA) Buddhist Hall. The bookstore has limited operating hours on Monday through Saturday and is closed Sundays. Overview of Kalaupapa Peninsula View of Kalaupapa Peninsula from Overlook The Kalaupapa peninsula was once a prison for those inflicted with Hansen's disease. Approximately 8000 people were forced to live their lives in isolation here. Pali (Sea cliffs) at Kalaupapa View of pali (sea cliffs) on the north shore of Molokai Kalaupapa National Historical Park contains some of the world's tallest sea cliffs, which formed a natural barrier to the Hansen's disease settlement. Kalaupapa Settlement View of residences along Damien Road Patients lived in a combination of group homes and single family residences at Kalaupapa. Kalawao at Sunrise View of the sunrise over the north shore of Molokai Kalawao with its rocky shoreline was the landing spot for the first Hansen's disease patients sent to Kalaupapa. Black Sand Beach View of Black Sand Beach and Awahua Bay Black Sand Beach is one of several sandy beaches at Kalaupapa, most known for its sea turtle nesting habitat. Archeological Sites at Kalaupapa View of rock walls and native Hawaiian archeological sites at Kalaupapa. Kalaupapa is also home to one of the most well-preserved archeological complexes in all of Hawaii. Siloama Church at Kalawao Siloama Church at Kalawao settlement Siloama Church was the first church established at Kalawao in 1866. It is one of two remaining buildings at Kalawao today. St. Damien's Grave View of St. Damien's Grave at Kalawao with ocean in background. Saint Damien is one of two Catholic saints at Kalaupapa who came to serve the Hansen's disease patients in the late 19th century. Paschoal Hall View of Paschoal Hall also known as the Kalaupapa Social Hall Paschoal Hall, also known as the Kalaupapa Social Hall, served as the community's recreational center with movies, entertainers, and dances. Papaloa Cemetery View of grave markers at Papaloa Cemetery in Kalaupapa Kalaupapa is the final resting place for approximately 8000 people. Papaloa Cemetery is the largest cemetery located along the west shoreline of the peninsula. Kana'ana Hou Church View of Kana'ana Hou Church through gates Religion was a prominent part of patients' lives at Kalaupapa. Protestant, Catholic, and Mormon churches were established at both Kalawao and Kalaupapa settlements. Kalaupapa Pier View of warehouse and store at the Kalaupapa Pier The Kalaupapa Pier, warehouse, and store were the lifeline of the settlement during the 20th century. Historically, shipments of goods and supplies were sent to Kalaupapa weekly. A Place of Care: Mother Marianne Cope and the Kalaupapa Cultural Landscape In 1883, Mother Marianne Cope arrived in Hawaii with six other Sisters of St. Francis to care for patients with leprosy on the Hawaiian Islands. With the arrival of patients and caregivers on the isolated peninsula, the Kalawao and Kalaupapa Settlements developed into a settlement community with facilities for religion, medical care, recreation, and agriculture. In addition to her lifetime of service, Mother Marianne played a critical role in the landscape's development. White statue is a monument to Mother Marianne Cope at the head of the original gravesite Ho`oikai`ka: The Volunteer Fire Department Ho`oikai`ka, "together strong" is the Kalaupapa National Historical Park volunteer fire department's motto. Kalaupapa has a long history of fires. Most of the buildings in the settlement are historic structures; many date to the 1930s or earlier. With the nearest fire department located at Ho`olehua on "topside" Moloka`i, a 2,000-foot-high cliff away, Kalaupapa has to rely on its residents to fight fires. An engine bay with the sign Fire Station and a national park service arrowhead 2019 Connecting with our Homelands Awardees Hopa Mountain, in partnership with the National Park Service, is pleased to announce the 2019 awardees of the Connecting with our Homelands travel grants. Twenty-one Indigenous organizations, schools, and nonprofits have been awarded travel funds for trips to national park units across 12 states/territories within the United States. An elder and young student talk while sitting on a rock. Archeology at the Kuka'iwa'a Landshelf, Kalaupapa Kalaupapa National Historical Park, on Molokai Island, is best known as the isolated peninsula where people afflicted with Hansen's Disease (leprosy) were sent between the years 1866-1965. However, the park also preserves thousands of archeological features which represent pre-leprosy settlement life. In April and May 2013, cultural resource staff from Kalaupapa National Historical Park inventoried a remote landshelf on Molokai's north shore, called Kuka'iwa'a. [photo] View of Kuka'iwa'a looking inland. Climate Change Clues from Monitoring As climate changes, significant changes in weather conditions impact the natural environment by shifting patterns of precipitation, promoting extremes in storm behavior, and influencing bird migration, invasive species spread, coral reef decline, and much more. The Pacific Island Network (PACN) undertakes systematic long-term monitoring of a wide variety of natural resources to accurately determine if change is occurring and why. Precipitation seen over the lush valleys of Kalaupapa National Historical Park. Algae Grazers Help Clean Up How unique marine assemblages at Kalaupapa National Historical Park and Kaloko-Honokōhau National Historical Park provide an excellent opportunity to study nutrient inputs into nearshore waters, and its influence on benthic communities and the associated fish assemblage. Red pencil sea urchin (Heterocentrotus mammillatus) Stream Life in Hawai'i National Parks Changes in weather patterns affect the quantity and quality of the water, which has profound effects on our native stream animals. In the Hawaiian Islands, the total amount of rain is expected to decrease as the impacts of climate change manifest. A stream cascading through green vegetation POET Newsletter February 2014 Pacific Ocean Education Team (POET) newsletter from February 2014. Articles include: A Beacon of Light for the Channel Islands; A Challenging Place; Isolation within Isolation; Destruction Island Lighthouse A black and white historic photo of the Destruction Island lighthouse tower on a bluff top. NPS Geodiversity Atlas—Kalaupapa National Historical Park, Hawaii Each park-specific page in the NPS Geodiversity Atlas provides basic information on the significant geologic features and processes occurring in the park. Links to products from Baseline Geologic and Soil Resources Inventories provide access to maps and reports. [Site Under Development] cemetery and coastal landscape Disability History: The NPS and Accessibility The National Park Service strives to make its parks, monuments, and historic sites available to all. Programs, services, and products, such as Braille alternatives of print material, sign language interpretation of tours, accessible camping sites and trails, ramps and elevators make parks more accessible. These are essential to allowing the public to fully enjoy NPS resources. exterior of a log cabin Conserving pinnipeds in Pacific Ocean parks in response to climate change The evolutionary record from previous climate perturbations indicates that marine mammals are highly vulnerable but also remarkably adaptable to climatic change in coastal ecosystems. Consequently, national parks in the Pacific, from Alaska to Hawaii, are faced with potentially dramatic changes in their marine mammal fauna, especially pinnipeds (seals and sea lions). black harbor seal Series: Disability History The Disability History series brings attention to some of the many disability stories interwoven across the National Park Service's 400+ units and its programs. "Disability stories" refer to the array of experiences by, from, and about people with disabilities represented across our nation. People with disabilities are the largest minority in the United States, but their stories often remain untold. Statue of FDR in his wheelchair Series: National Park Service Geodiversity Atlas The servicewide Geodiversity Atlas provides information on <a href="https://www.nps.gov/subjects/geology/geoheritage-conservation.htm">geoheritage</a> and <a href="https://www.nps.gov/subjects/geology/geodiversity.htm">geodiversity</a> resources and values all across the National Park System to support science-based management and education. The <a href="https://www.nps.gov/orgs/1088/index.htm">NPS Geologic Resources Division</a> and many parks work with National and International <a href="https://www.nps.gov/subjects/geology/park-geology.htm">geoconservation</a> communities to ensure that NPS abiotic resources are managed using the highest standards and best practices available. park scene mountains Transforming Visitor Access at Kalaupapa National Historical Park In 2019, heavy rains caused severe flooding and landslides at Kalaupapa National Historical Park in Hawaii, destroying a 50-foot long pedestrian bridge, cutting visitor access short along the Upper Pali Trail. Park staff responded to the issue by considering ways to improve visitor experience, expand the bridge's capabilities, and work with the landscape to ensure future rainfalls would not impact access Repaired bridge on a clear, bright day the park. Series: Pacific Ocean Education Team (POET) Newsletters From 2009 to 2015, the Pacific Ocean Education Team published a series of short newsletters about the health of the ocean at various National Park Service sites in and around the Pacific Ocean. Topics covered included the 2010 tsunami, marine debris, sea star wasting disease, ocean acidification, and more. Ocean waves wash in from the right onto a forested and rocky shoreline. POET Newsletter Summer 2010 Pacific Ocean Education Team (POET) newsletter from Winter 2009. Articles include: Stewardship Without Boundaries: Conserving Our Ocean Ecosystem from Baja to the Bering Sea; A Seamless Network of Parks, Sanctuaries, Refuges & Reserves; Life Entwined with the Sea: The Non-Coastal Park Connection; Take the Plunge into Ocean Stewardship; Nearshore Vertebrates in Four Hawaii Parks; and Ocean Stewardship: A Commitment to Collaboration. Sea stacks rise above ocean waves washing ashore. A wooded ridge rises in the distance. Podcast 098: Hawaiian Studies at the University of Hawai'i Hilo Jason Church speaks with students from the University of Hawaiʻi at Hilo about their Hawaiian studies program. Students volunteered to learn cemetery conservation on grave markers at Kalaupapa National Historical Park. UH Hilo students at Kalaupapa National Historical Park Podcast 100: UHawaii Hilo students caring for 'ohana at Kalaupapa Jason Church speaks with students from the University of Hawaiʻi Hilo. They talk about the students' cemetery preservation work at Kalaupapa National Historic Park. Rinsing the grave marker after cleaning with D/2. HOPE comes to Kalaupapa The Kalaupapa peninsula has been called a "natural prison", with rough and rocky ocean on three sides and 2000 feet vertical cliffs on the fourth side. This made for an ideal location to quarantine leprosy patients starting in 1866. Patients were not officially allowed to leave until 1969, when the State board of Health repealed the isolation policy. Most decided to remain at the home and community they had made in Kalaupapa and still reside there today. Cast concrete grave marker with finely inscribed characters. Olivia Robello Breitha "My name is Olivia. It's not L-E-P-E-R….I wrote a book because I wanted people to know what I feel, what I felt, how much I struggled, fighting the disease, fighting ignorance, fighting bureaucrats, fighting that hurtful word." Women with sun glasses smiles from inside her beat up blue car. Shield Volcanoes Shield volcanoes are typically very large volcanoes with very gentle slopes made up of basaltic lava flows. Mauna Loa and Kilauea in Hawaii Volcanoes National Park are shield volcanoes. diagram of a shield volcano with lava features Women of Kalaupapa For Women's History Month, the National Historic Landmark (NHL) Program recognizes the lives and legacies of the women of Kalaupapa who have played vital roles in improving conditions and advocating on behalf of their community. The Kalaupapa Leprosy Settlement NHL preserves the stories of the more than 8,000 people affected by leprosy (Hansen's Disease) who were exiled there between 1866 and 1969 under the belief that this would halt the spread of the disease. Monument of cross stands overlooking lush landscape below and sunrise over Pacific ocean Series: Volcano Types Volcanoes vary in size from small cinder cones that stand only a few hundred feet tall to the most massive mountains on earth. photo of a volcanic mountain with snow and ice Kalaupapa National Historical Park Structural Fire Program establishes new partnership for NPS firefighting refresher course at Army's Pōhakuloa Training Area After a two-year pause on in-person training due to the coronavirus pandemic, firefighters at Kalaupapa National Historical Park partnered with the U.S. Army at Pōhakuloa Training Area in Hawai'i for structural fire refresher training to maintain their qualifications. A firefighter stands silhouetted in a burning structure. Series: Women's History in the Pacific West - Pacific Islands Collection Women's biographies from Hawai'i and Guam Map of parks in Hawaii, American Samoa, Guam and Northern Mariana Islands Kalaupapa and Kalawao Settlements Cultural Landscape The Kalaupapa and Kalawao Settlements cultural landscape is located on an isolated peninsula on the weathered north coast of the Hawaiian Island of Molokai, within Kalaupapa National Historical Park. Over time, the character of the landscape evolved to reflect the needs and choices of the residents during and after the historic period of significance. a peninsula surrounded by the ocean Moloka'i Island: Kalaupapa National Historical Park Kalaupapa National Historical Park includes the community of Kalaupapa on the leeward side of the peninsula, which is still home for many surviving Hansen's disease patients. The Hansen's disease settlement of Kalawao and the churches of Siloama and Saint Philomena on the windward side of the peninsula are also in the park. View of the Kalaupapa Peninsula and the surrounding ocean.