"The Lincoln Home"
by U.S. National Park Service ,
public domain
Lincoln Home

National Historic Site - Illinois
Lincoln Home National Historic Site preserves the Springfield, Illinois home and a historic district where Abraham Lincoln lived from 1844 to 1861, before becoming the 16th President of the United States. The presidential memorial includes the four blocks surrounding the home and a visitor center.
maps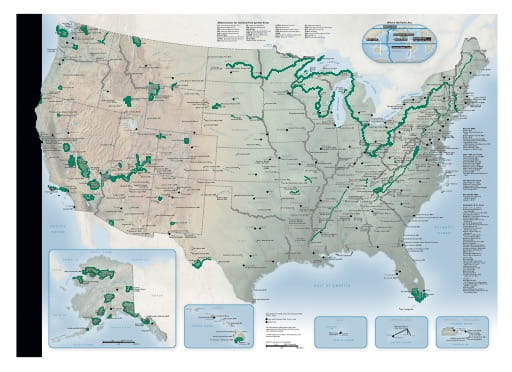 National Park System - National Park Units
Map of the U.S. National Park System. Published by the National Park Service (NPS).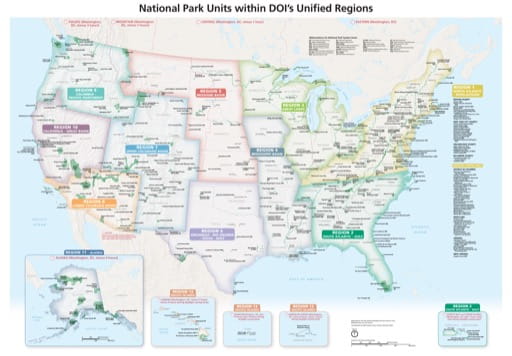 National Park System - National Park Units and Regions
Map of the U.S. National Park System with Unified Regions. Published by the National Park Service (NPS).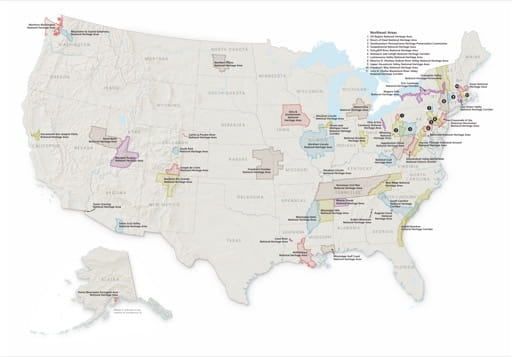 National Park System - National Heritage Areas
Map of the U.S. National Heritage Areas. Published by the National Park Service (NPS).
https://www.nps.gov/liho/index.htm https://en.wikipedia.org/wiki/Lincoln_Home_National_Historic_Site Lincoln Home National Historic Site preserves the Springfield, Illinois home and a historic district where Abraham Lincoln lived from 1844 to 1861, before becoming the 16th President of the United States. The presidential memorial includes the four blocks surrounding the home and a visitor center. Abraham Lincoln believed in the ideal that everyone in America should have the opportunity to improve their economic and social condition. Lincoln's life was the embodiment of that idea. We know him as the sixteenth president but he was also a spouse, parent, and neighbor who experienced the same hopes, dreams, and challenges of life that are still experienced by many people today. The Visitor Center is located at 426 South Seventh Street. The 4-block Lincoln Home Neighborhood is open to pedestrians and closed to vehicles. Lincoln Home Visitor Center Open 8:30 AM to 5:00 PM. Closed Thanksgiving Day, Christmas Day, and New Years Day. Visitors using the parking lot must pay $2.00 per hour. Here you can get free tour tickets and pay for parking. We ask visitors please pay with debit or credit card as we do not accept cash. In the VC, Theater One shows a park film, and Theater Two serves as the meeting point for tours of the Lincoln Home. Tickets are required for tours of the Lincoln Home. Exhibits, information, souvenirs and bathrooms are located here. Traveling south on 7th street, which is a one-way street, turn into the parking lot located on the right after the visitor center. The parking located north, before the visitor center, is for buses and oversized/RV parking only. Lincoln Home Draped in Bunting 2 story tan house with green shutters. Red, white, and blue striped bunting draped below its fence The original home where Abraham Lincoln lived before his presidency still stands and welcomes visitors to explore Lincoln's pre-presidential legacy. Lincoln Home National Historic Site Visitor Center One story brick building with plants and shrubs. Information, restrooms, tour tickets, and park films are all available at the Lincoln Home visitor center. Harriet Dean House 2 story brown house with dark green shutters and white fence. The first floor of the Dean House has exhibits focusing on changes in the Lincoln Home and family over the years. Arnold House 1 story small gray house with stairs leading up to door. Exhibits in the Arnold House explore historic preservation of the neighborhood Wayside Exhibits Along 8th Street Graveled road with wooden boardwalks. Waist-high wayside exhibits next to boardwalks. Explore the stories of Lincoln's neighborhood by reading the outdoor wayside exhibits are scattered along 8th street. Heirloom Garden Garden with green plants surrounded by white picket fence The heirloom garden in the Dean House backyard grows heirloom vegetables in the summer and autumn. Dinner at the Lincolns': Archeology of the Lincoln Home Abraham and Mary Todd Lincoln and their sons lived in the house in Springfield, Illinois between 1844 and 1861. Archeological excavations uncovered evidence of their everyday lives, ranging from decorated dishes and glassware used during large parties to medicine bottles and children's toys. Cup excavated from the Lincoln Home. Emancipation and the Quest for Freedom Although the abolition of slavery emerged as a dominant objective of the Union war effort, most Northerners embraced abolition as a practical measure rather than a moral cause. The war resolved legally and constitutionally the single most important moral question that afflicted the nascent republic, an issue that prevented the country from coalescing around a shared vision of freedom, equality, morality, and nationhood. Slave family seated in front of their house Spirit of Lincoln Youth Academy Since 2013, the Spirit of Lincoln Youth Leadership Academy has empowered youth by using history to teach contemporary values on integrity and courage. A group of young people walking in a line. The Border States The existence of divided populations in Border States had a profound impact on Union and Confederate strategy-both political and military. Each side undertook military and political measures--including brutal guerilla warfare-- in their attempts to control areas of divided loyalty and hostile moral and political views held by local civilians. Painting showing removal of Missouri civilians from their homes by Union troops Trail of Twelve Stones The Trail of Twelve Stones is a unique way to review some of the major events in Abraham Lincoln's life. Beginning just east of the Cabin Site Memorial, twelve historic stones area arranged in chronological order at irregular intervals. This trail guide, and the small bronze tablets located near each stone, briefly explain the events in Lincoln's life associated with each of the memorial stones. Several shaded, stone-bench rest areas are provided for your convenience. Trail to large stone set in middle of trail surrounded by forest with bright green leaves Abraham Lincoln: The War Years 1861-1865 No president up to that point in American history was called on to be commander-in-chief like Abraham Lincoln. From monitoring the War Department telegraph office to selecting of commanding generals and developing military strategy, Lincoln guided the nation through its darkest hour. Abraham Lincoln and General George McClellan following the Battle of Antietam The Civil War in American Memory America's cultural memories of the Civil War are inseparably intertwined with that most "peculiar institution" of American history - racial slavery. But in the struggle over Civil War memory which began as soon as the war was over and continues to this day, rival cultural memories of reconciliation and white supremacy have often prevailed. Therein lies the challenge as the National Park Service - a public agency - seeks to "provide understanding" of the Civil War era's lasting impact upon the development of our nation. Elderly Union and Confederate veterans shake hands at the fiftieth anniversary of the Battle of Gettysburg The Changing War Begun as a purely military effort with the limited political objectives of reunification (North) or independence (South), the Civil War transformed into a social, economic and political revolution with unforeseen consequences. As the war progressed, the Union war effort steadily transformed from a limited to a hard war; it targeted not just Southern armies, but the heart of the Confederacy's economy, morale, and social order-the institution of slavery. Woodcut of spectators watching a train station set fire by Sherman's troops Secession: Why Lincoln Feared it was the End of Democracy When the South decided to secede from the Union on the eve of the Civil War in 1860, perhaps no political figure was more adamant than Abraham Lincoln himself about why this was dangerous - not just for America, but the world. Photograph of Abraham Lincoln Robert Todd Lincoln and Presidential Assassinations Robert Todd Lincoln, son of President and First Lady Lincoln, had the misfortune to be at the site of three Presidents of the United States. Read about occassion and how Robert Todd Lincoln was connected. a young man in his early twenties posing for a picture wearing a suit jacket John Logan: War Hero, Public Servant, Founder of Memorial Day It is fitting and proper that General John Logan should be honored with a prominent statue in the nation's capital. He was an effective military leader who fought in many Civil War battles, a successful and active politician, head of the Grand Army of the Republic veterans organization, and is credited with establishing Memorial Day as a national day of remembrance for those who lost their lives in the Civil War. Equestrian Statue Honoring General John A. Logan at Logan Circle in Washington DC Staff Spotlight: Vanessa Torres Meet Vanessa Torres, Program Manager of Interpretation, Education, and Community Engagement for Lyndon B Johnson National Historical Park and Waco Mammoth National Monument. Hear her story and advice she has for youth and young adults. Vanessa Torres enjoying a break in the Texas Bluebonnets "With Malice Toward None...": Lincoln's Second Inaugural Address In his Second Inaugural Address, March 4, 1865, a re-elected President Abraham Lincoln wanted to unify a broken nation. With the end of the Civil War within sight, many people on both sides felt anger and frustration toward their fellow Americans. Lincoln attempted to rise above the divisiveness and start the process of healing. Heralded as one of the most significant presidential speeches in American history, its meaning and eloquence still resonate with people today. Lincoln Second Inaugural on the steps of the US Capitol Lincoln in the Illinois State Legislature Abraham Lincoln spent more years as an Illinois state representative than his entire time as U.S. congressman and U.S. president combined. His service in the state legislature was marked by both triumph and failure, and instilled in Lincoln the need to govern while balancing political idealism with political reality. Portrait Photo of Abraham Lincoln ca. 1853 Find Your Park on Route 66 Route 66 and the National Park Service have always had an important historical connection. Route 66 was known as the great road west and after World War II families on vacation took to the road in great numbers to visit the many National Park Service sites in the Southwest and beyond. That connection remains very alive and present today. Take a trip down Route 66 and Find Your Park today! A paved road with fields in the distance. On the road is a white Oklahoma Route 66 emblem. Things to Do in Illinois and Indiana Things to do and trip ideas in Illinois and Indiana national parks. Beach along a large lake with green grassy dunes in the background under a blue sky. Series: Things to Do in Midwest National Parks There is something for everyone in the Midwest. See what makes the Great Plains great. Dip your toes in the continent's inland seas. Learn about Native American heritage and history. Paddle miles of scenic rivers and waterways. Explore the homes of former presidents. From the Civil War to Civil Rights, discover the stories that shape our journey as a nation. Steep bluff with pink sky above and yellow leaves below. Guide to the Thomas J. Allen Photograph Collection Finding aid for the Thomas J. Allen Photographs in the NPS History Collection.