Muddy Mountains

Wilderness - Nevada
Just an hour outside of Las Vegas' urban sprawl lies a place of wonder and mystery, an area of outrageous geology and colorful Mojave Desert habitat - the unique desert environment known as the Muddy Mountains Wilderness. This landscape on the north shore of Lake Mead contains four areas that offer stunning geology, a fragile desert ecosystem and a chance to get away from urban sprawl. It measures 18 miles long and 14 miles wide. Many of the areas in the Muddy Mountains region are accessible from state and county roads. The BLMs Bitter Springs Backcountry Byway gives visitors access to the Muddy Mountains Wilderness and the Buffington Pockets area. North Shore Drive in the Lake Mead National Recreation Area serves up stunning vistas of the Black Mountains. Or get out of your car to explore deeper into these areas. The Muddy Mountains region offers shadowy slot canyons, mind-bending geological formations and expansive views of Lake Mead. Solitude and silence are as common as the narrow canyons and gravelly washes.
maps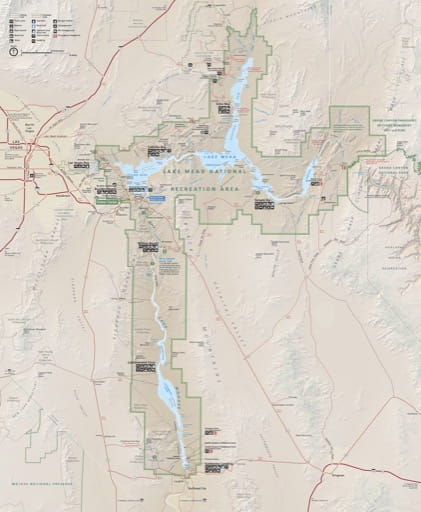 Lake Mead - Visitor Map
Official visitor map of Lake Mead National Recreation Area (NRA) in Arizona and Nevada. Published by the National Park Service (NPS).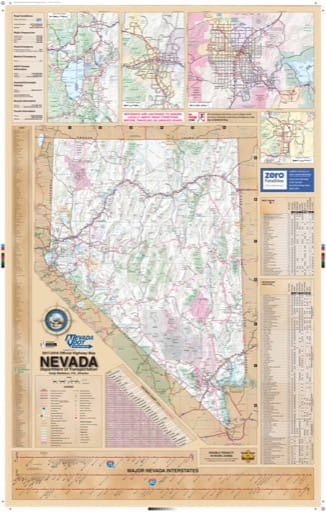 Nevada State - Nevada State Highway Map
Official Nevada State Highway Map. Published by the Nevada Department of Transportation (NVDOT).