South McCullough

Wilderness - Nevada
The South McCullough Wilderness encompasses the southern portion of the McCullough Range. This area of the north-south trending range is comprised of ancient metamorphic rock. From a distance, the mountains appear soft, with mellow rounded edges. Upon closer inspection, you will see that the peaks and ridges are rocky and rough, reaching heights over 7,000 feet. The mountains in the South McCullough Wilderness are comprised of dramatic uplifted fault block of gneiss and granite, with steep slopes, narrow deep canyons to the east and west, and deep sandy washes. There is a wide, deeply cut bajada on the west side of the mountains. The lower slopes are comprised of gently tilted alluvial deposits of unsorted sand, gravel, and cobbles. Though a short distance from the lights and sounds of Las Vegas, Nevada silence is common in the narrow canyons and sandy washes of South McCullough Wilderness. Infrequent visitor use and the need for route finding skills provide great opportunities for solitude and recreation including hiking, horseback riding, hunting, exploring, and camping.
maps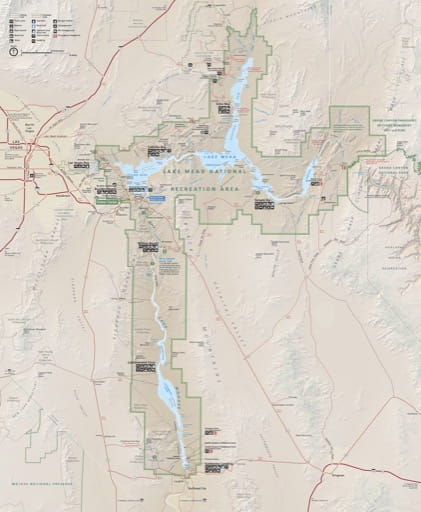 Lake Mead - Visitor Map
Official visitor map of Lake Mead National Recreation Area (NRA) in Arizona and Nevada. Published by the National Park Service (NPS).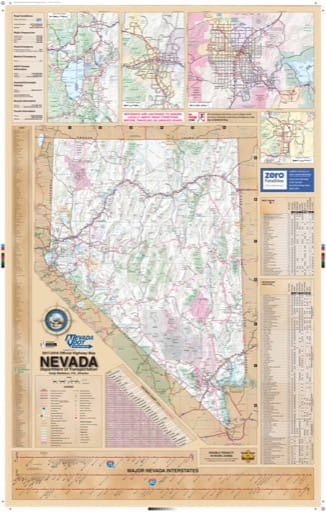 Nevada State - Nevada State Highway Map
Official Nevada State Highway Map. Published by the Nevada Department of Transportation (NVDOT).