Davis Mountains

State Park - Texas
Davis Mountains State Park is located in the Davis Mountains in Jeff Davis County, Texas. The closest town is Fort Davis, Texas. The park elevation is between 5,000 and 6,000 ft (1,500 and 1,800 m) above sea level. The park is next to the Fort Davis National Historic Site and the two are connected by four miles of hiking trails. Within the park is the "Indian Lodge", an adobe motel with thirty-nine rooms, sixteen that were built by the Civilian Conservation Corps during the 1930s (completed in 1939) and twenty-four added by Texas Parks and Wildlife in the 1967. A large bird blind next to the main road offers enclosed and open viewing areas for the many species of birds that are attracted to the feeders near the blind. The park has seven miles of equestrian trails in the special use Limpia Canyon Primitive Area, the section of the park north of Texas State Highway 118.
maps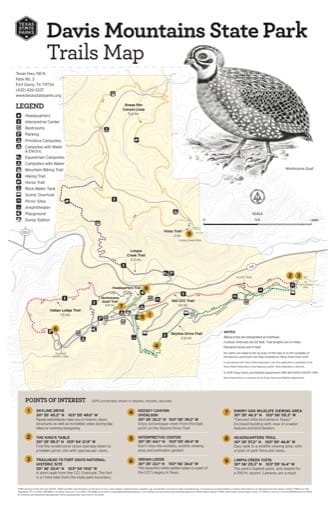 Davis Mountains - Trails Map
Trails Map of Davis Mountains State Park (SP) in Texas. Published by Texas Parks & Wildlife.