Eisenhower

State Park - Texas
Eisenhower State Park is located northwest of Denison, Texas on the shores of Lake Texoma. The park is named for the 34th U.S. president, Dwight D. Eisenhower, who was born in Denison. The park offers nature programs throughout the year. The park has facilities for picnicking, nature study, hiking, biking, fishing, swimming, boating, water skiing, wildlife observation, All-terrain vehicle (ATV) use, and camping. Facilities at the park are picnic sites, playground areas, campsites, screened shelters, recreation hall, a campground pavilion, boat dock, an amphitheater, a lighted fishing pier, an ATV/mini bike area of 10 acres (40,000 m2), and 4.5 miles (7.2 km) of hike and bike trails. Also located within the park is the Eisenhower Yacht Club, a privately operated full-service marina.
maps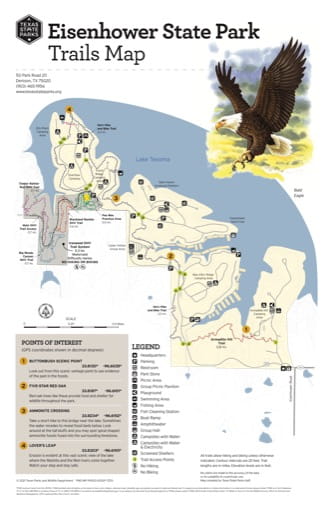 Eisenhower - Trails Map
Trails Map of Eisenhower State Park (SP) in Texas. Published by Texas Parks & Wildlife.