Hueco Tanks

State Park & Historic Site - Texas
Hueco Tanks is an area of low mountains and historic site in El Paso County, Texas. It is located in a high-altitude desert basin between the Franklin Mountains to the west and the Hueco Mountains to the east. Hueco is a Spanish word meaning hollows and refers to the many water-holding depressions in the boulders and rock faces throughout the region. The park consists of three syenite (a weak form of granite) mountains. It is popular for recreation such as birdwatching and bouldering. It is culturally and spiritually significant to many Native Americans. This significance is partially manifested in the pictographs (rock paintings) that can be found throughout the region, many of which are thousands of years old.
maps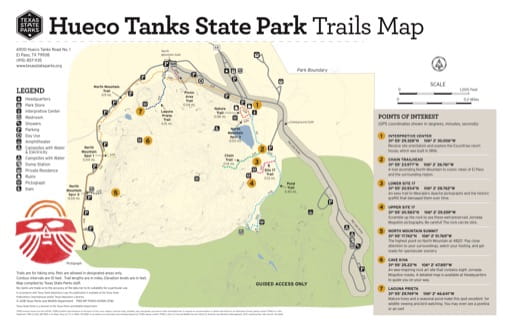 Hueco Tanks - Trails Map
Trails Map of Hueco Tanks State Park (SP) in Texas. Published by Texas Parks & Wildlife.