"Mountain Biking at McCoy Flats"
by Bureau of Land Management - Utah ,
public domain
Fantasy Canyon

Recreation Area Map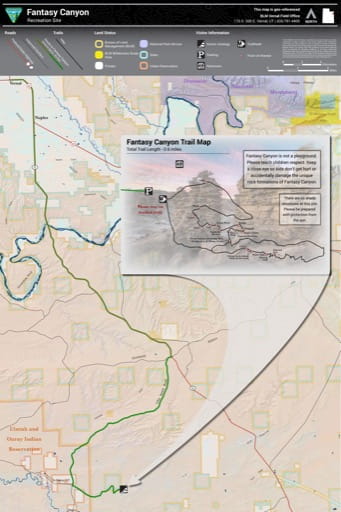 Visitor Map of the Fantasy Canyon Recreation Site (RS) in the BLM Vernal Field Office area in Utah. Published by the Bureau of Land Management (BLM).
Fantasy Canyon is a postage-stamp sized area located about an hour south of Vernal, Utah. It makes up for its small size by presenting one of the most unusual erosional landscapes in North America. The rocks of Fantasy Canyon are quartzose sandstones and date from around 38 to 50 million years ago. Because of different rates of weathering, the more durable sandstone remained while the more easily weathered siltstone and shale washed away, yielding this spectacular intricate and delicate formations. The best times to visit the area are morning and evening from spring through fall. This map highlights the most direct driving route from the Utah town of Vernal, as well as the trail and location of named formations within the canyon.