Jordan River

Off-Highway Vehicle - Utah
Jordan River Off-Highway Vehicle State Recreation Area is a Utah State Park located in Salt Lake City, Utah, USA. The park is dedicated to recreation with off highway vehicles. It consists of four separate tracks, with tabletops and banked turns, and is open from approximately early April to approximately mid-October. Off-highway motorcycle (OHM) riders have access to two motocross tracks. The novice and grand-prix tracks are open to both OHMs and all-terrain vehicles.
maps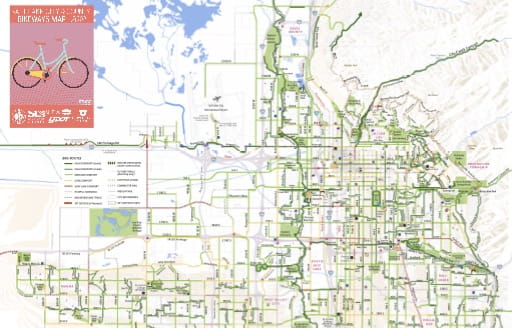 Salt Lake City - Bikeways North 2019
Salt Lake City & Northern Salt Lake County Bikeways Map. Published by Salt Lake City.
brochures
Utah State Parks - Field Guide
Utah State Parks Field Guide. Published by Utah State Parks.
Utah State Parks - Utah Travel Guide
Utah Travel Guide. Published by visitutah.com
Utah State Parks - Utah Scenic Byways
Guide to Utah Scenic Byways. Published by visitutah.com