Salt Lake City

undefined - Utah
Salt Lake City is the capital and the most populous municipality of the U.S. state of Utah. With an estimated population of 190,884 in 2014, the city is the core of the Salt Lake City metropolitan area, which has a population of 1,153,340 (2014 estimate). The world headquarters of The Church of Jesus Christ of Latter-day Saints (LDS Church) is located in Salt Lake City and the city's street grid system is based on the temple constructed by the Church at its center. The city was originally founded in 1847 by Brigham Young, and other followers of the Church, who were seeking to escape religious persecution in the mid-western United States. Immigration of international LDS members, mining booms, and the construction of the first transcontinental railroad initially brought economic growth, and the city was nicknamed the Crossroads of the West. It was traversed by the Lincoln Highway, the first transcontinental highway, in 1913, and presently two major cross-country freeways, I-15 and I-80, intersect in the city. Salt Lake City has since developed a strong outdoor recreation tourist industry based primarily on skiing, and hosted the 2002 Winter Olympics.
maps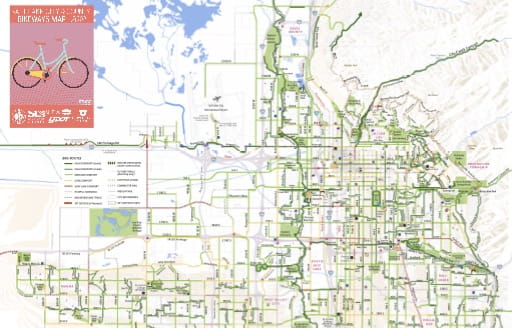 Salt Lake City - Bikeways North 2019
Salt Lake City & Northern Salt Lake County Bikeways Map. Published by Salt Lake City.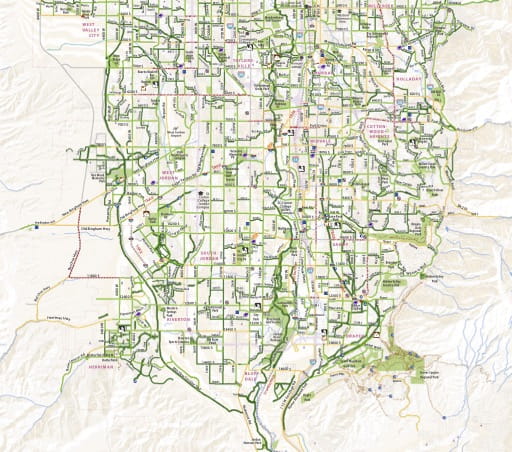 Salt Lake City - Bikeways South 2019
Southern Salt Lake County Bikeways Map. Published by Salt Lake City.