This is the Place

Heritage Park - Utah
The This is the Place Heritage Park is located on the east side of Salt Lake City, Utah, at the foot of the Wasatch Range and near the mouth of Emigration Canyon. The location of the park is where, on July 24, 1847, Brigham Young first saw the Salt Lake Valley would soon become the Mormon pioneers' new home. The statement "This is the Place" was first attributed to Young by Wilford Woodruff more than thirty years after the pioneer advent. A Utah state holiday, Pioneer Day, occurs each year on July 24 to commemorate the Mormon pioneers' entry into the valley.
maps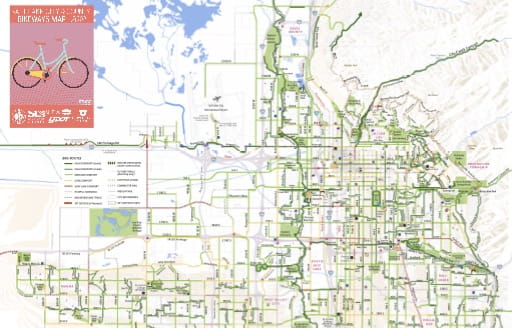 Salt Lake City - Bikeways North 2019
Salt Lake City & Northern Salt Lake County Bikeways Map. Published by Salt Lake City.
brochures
Utah State Parks - Field Guide
Utah State Parks Field Guide. Published by Utah State Parks.
Utah State Parks - Utah Travel Guide
Utah Travel Guide. Published by visitutah.com
Utah State Parks - Utah Scenic Byways
Guide to Utah Scenic Byways. Published by visitutah.com