Douthat

State Park - Virginia
Douthat State Park is located in the Allegheny Mountains in Virginia. It is in Bath County and Alleghany County. Douthat State Park has become a premier mountain biking destination. Twenty-four of the twenty-six trails at Douthat are open to biking. The park has been heralded as the best mountain biking destination on the East Coast. Douthat allows trout fishing in its stocked lake with a valid Virginia Fishing License and a daily permit. A boat ramp launch is available April through October. Jonboats (including those with electric motors), canoes, paddleboats, hydrocycle and funyaks (similar to kayaks) are available for rental. Over 43 miles (69 km) of varied difficulty trails are available. Horseback riding at the park is restricted to several trails on the Western side of the park and mountain biking is permitted on nearly all of the trails.
maps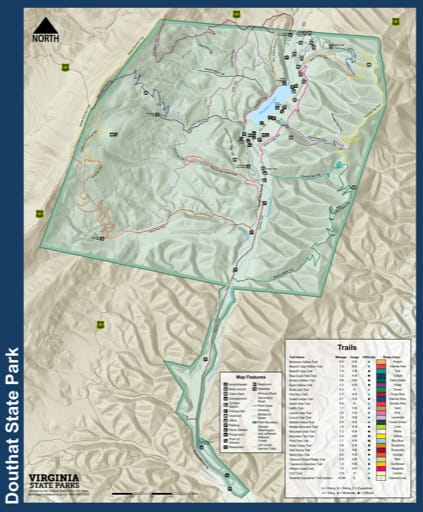 Douthat - Visitor Map
Visitor Map of Douthat State Park (SP) in Virginia. Published by Virginia State Parks.
Blue Ridge - Visitor Map
Official visitor map of Blue Ridge Parkway (PKWY) in North Carolina and Virginia. Published by the National Park Service (NPS).