False Cape

State Park - Virginia
False Cape State Park is located on the Currituck Banks Peninsula, a one-mile-wide (1.6 km) barrier spit between the Back Bay of the Currituck Sound and the Atlantic Ocean, within the city of Virginia Beach, adjacent to the state border with North Carolina, and just north of Mackay Island National Wildlife Refuge. False Cape State Park includes hiking and biking trails, a visitors' center, environmental educational and primitive camping facilities. The park can be accessed from the north on foot, bicycle, or seasonally available tram through Back Bay National Wildlife Refuge, or from the south on foot or bicycle. Boat access is possible from any shoreline.
maps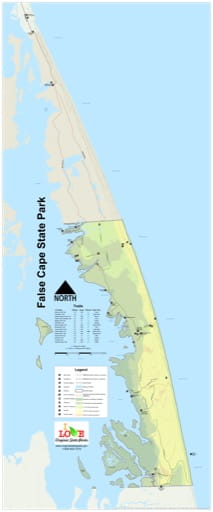 False Cape - Visitor Map
Visitor Map of False Cape State Park (SP) in Virginia. Published by Virginia State Parks.