First Landing

State Park - Virginia
First Landing State Park (formerly Seashore State Park) offers recreational opportunities at Cape Henry in the independent city of Virginia Beach, Virginia. The state park is near the site of the first landing on April 26, 1607 of Christopher Newport and the Virginia Company colonists before establishing themselves at Jamestown. The park includes cabins, areas for camping, fishing, and swimming, a public beach, and over 19 miles (31 km) of trails for hiking and biking. Virginia's most popular state park, it's visited by over a million people each year. Its main entrance is located on Shore Drive across from the beach camping entrance.
maps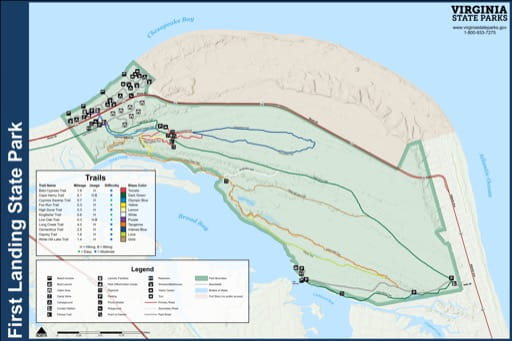 First Landing - Visitor Map
Visitor Map of First Landing State Park (SP) in Virginia. Published by Virginia State Parks.